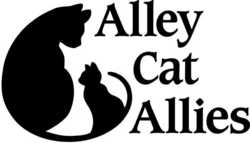 The federal government is bullying Cape May - virtually blackmailing the city to vote now or forfeit the sand needed for its beaches.
Cape May, NJ (PRWEB) February 28, 2008
The City of Cape May, N.J. is being forced to accept a federal beach management plan that will seriously endanger outdoor cats, against the wishes of many residents and local officials, according to Alley Cat Allies, the national advocates for stray and feral cats.
Alley Cat Allies is urging supporters nationwide to voice their opposition by visiting http://www.alleycat.org and signing its online petition.
"City officials say they have no choice but to vote on this federal plan, or lose millions of dollars in funding for sand to replenish the beach. Such a move would be devastating for the Cape May community, which relies on tourism," said Becky Robinson, president of Alley Cat Allies. The vote is scheduled for Tuesday, March 4.
"It is critical we act now and show the federal government we don't support this heavy-handed and ineffective plan," Robinson said. "If enacted, the plan would enable the state to overrule the wishes of residents and local animal control. Feral cat caregivers will be harassed or fined."
The city council and the mayor of Cape May have been pressured since last year by the U.S. Fish and Wildlife Service to abolish their successful 12-year-old Trap-Neuter-Return program for outdoor cats. Under the latest version of the federal plan, it will be virtually impossible to continue Trap-Neuter-Return, and many of the cats will be trapped and killed in order to comply.
In theory, the beach management plan is intended to protect endangered shorebirds. But the cats are not the real threat to shorebirds in Cape May, according to local residents and community volunteers. Many blame human activities and other predators. Residents also note that since Trap-Neuter-Return was implemented in the mid-1990s, the stray and feral cat population has decreased 80 percent - from around 450 cats to less than 100 today. The population continues to decline.
"If the town is forced to stop Trap-Neuter-Return, unaltered cats will continue to breed prolifically all over again," said Robinson. "This misguided beach management plan will actually lead to an increase in the number of outdoor cats."
Cape May was one of the first municipal governments to implement Trap-Neuter-Return as official policy for outdoor cats. Local officials, including Mayor Jerome Inderwies, say they are proud of this progressive and groundbreaking program.
Robinson questioned why the federal government is forcing this vote so soon. "Even if this plan passes now, the town would never be able implement it in time for shorebird nesting season," she said. "The federal government is bullying Cape May - virtually blackmailing the city to vote now or forfeit the sand needed for its beaches."
About Alley Cat Allies
The mission of Alley Cat Allies is to protect the lives and promote the wellbeing of stray and feral cats. Their web site is http://www.alleycat.org.
###