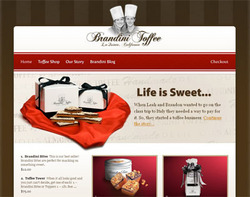 Brandon and Leah have proven that with hard work, determination and a positive attitude, there's no end to what can be achieved, no matter what your age
La Quinta, CA (PRWEB) February 28, 2008
Success can come at any age, especially when innovative minds come together and develop a plan that turns into something sweet. In an effort to raise money for a school trip to Italy, high school juniors and best friends Leah Post and Brandon Weimer created their company, Brandini Toffee, and were invited to teach Martha Stewart just how they create their homemade toffee on "The Martha Stewart Show" on February 26, 2008.
"Brandon and Leah have proven that with hard work, determination and a positive attitude, there's no end to what can be achieved, no matter what your age," says Leah's father, Justin Post. "We're very proud parents."
Incorporating Brandon's skill for creating delectable gourmet chocolate candy and Leah's determination to get the two friends on a once in a lifetime trip to Italy, Brandini Toffee was born when the two were just sophomores in high school. Through hard work and the support of their families and surrounding community, Leah and Brandon achieved their goal by earning enough money for their trip tickets and spending money within the first six weeks of business.
At BrandiniToffee.com customers can find handmade, gourmet almond toffee in a variety of sizes and packaging. Created with the freshest ingredients for a rich, consistent taste, their homemade toffee has taken Leah and Brandon beyond their trip to Italy into a realm of success not often experienced by entrepreneurs their age. Now saving money for college through their business, Leah and Brandon had the opportunity to attend the prestigious "Fancy Food Show" in San Diego in January 2008 as the youngest business owners to have a booth at the show. The two students have also been invited to appear on The Home Shopping Network and QVC.
BrandiniToffee.com sells Leah and Brandon's handmade toffee while telling the story of how it all started. Complete with photos of the trip to Italy that started it all, customers can shop and discover the tale behind the gourmet chocolate candy business. Customers are also encouraged to share their thoughts on the blog.
For more information about the gourmet chocolate candy available through Brandini Toffee, please visit BrandiniToffee.com.
About Leah Post:
Leah Post is a junior at La Quinta High in California. In addition to her success with Brandini Toffee she holds a 4.0+ GPA in the International Baccalaureate Program, is a varsity swimmer, and has spent five years with the K.I.S.S. Institute of Practical Robotics in which she was a three time 1st Place National Robotics Website Winner. A certified scuba diver and self-proclaimed computer nerd, Leah is proud of her ability to text 61 words per minute on her cell phone. Leah and her parents, Justin and Maggie Post, are 50% co-owners of Brandini Toffee.
About Brandon Weimer:
Brandon Weimer is a junior at La Quinta High. Holding a 4.0+ GPA in the International Baccalaureate Program, he is also on the debate team and enjoys hunting, camping, cooking, traveling and skim boarding. A certified scuba diver, Brandon hopes to go to college in California. Brandon and his parents, Brad and Angela Weimer, are 50% co-owners of Brandini Toffee.
###