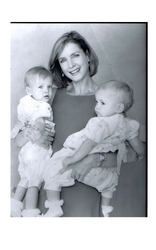 Women often feel self-sacrifice is a prerequisite for parenthood.
Santa Clarita, CA (PRWEB) February 28, 2008
Sure, you've seen kids in the throws of a major meltdown…not a pretty sight. But until you've witnessed a new mommy meltdown, you don't know scary! Here are 5 clues that you are (or she is) edging closer…
1. You fall asleep in your coffee cup.
2. You're putting dirty disposable diapers in the laundry basket
3. You're dreaming while standing up.
4. You're crying more that your baby.
5. You're beginning to smell because you haven't taken a shower in a week!
If you identify with any one of the above, you need some support girl! Author, founder and CEO of Love & Blessings and mother-of-twins, Victoria Loveland-Coen, is on a mission to inspire and support moms who are overwhelmed, exhausted and "on the verge". She has spent the last eight years developing products that enhance the bond a mother has with her baby (The Baby Bonding Book), relieve her stress (Guided Relaxation for New Moms) and make sure she gets the help she needs (the New Mommy Coupon Book). Love & Blessings is now launching a brand new website, that combines free helpful information for new parents with "customer created" organic gift baskets that nurture mom and baby.
"Women often feel self-sacrifice is a prerequisite for parenthood." Loveland-Coen explains. And, to a certain degree, that's true. But ""contrary to popular belief, parenting doesn't have to be at the expense of your own well-being."" The bottom line is, when you are happy, relaxed and refreshed, your baby gets the mother he/she really needs." To support new mothers even further, Loveland-Coen has posted her "Guided Relaxation for new Mamas" as a free download on her homepage.
Below, Loveland-Coen outlines a few helpful tips for restoring much needed balance to new moms.

Do a Doula. Take advantage of the free post-birth doulas many hospitals are now offering. Or, find one through your pediatrician. This baby expert will come into your home and not only teach brand new moms the best way to swaddle, bath and burp baby, but will also take over for an hour for some much needed sleep.
Mother's Little Helper. Do you really have to wash the dishes, grocery shop and do all the laundry on top of caring for the baby? No, you don't. There's probably a teenager in your neighborhood who would like to earn a few extra bucks helping you out in this area.
Go to Sleep. When your baby naps, you nap. This isn't the time to get caught up on your e-mails, or send out thank you notes. Sleep.
Who's Your Daddy? Don't get caught in the mental trap that as a mommy you are the only qualified parent to care for baby. Give him a chance at being a father. Chances are he'll get better at it with every opportunity.
For more tips on restoring balance in a new mother's life, check out http://www.LoveBlessings.com/articles.
###