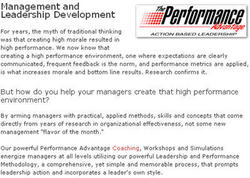 A much better approach is to use a focused, direct report assessment – evaluations by those most affected by the manager's abilities
Seattle (PRWEB) February 28, 2008
Talent Management Magazine has published Impact Achievement Group's article, "Alternative to 360s: The Manager's Role", in its February issue, describing the importance of managers and the practices they use to inspire exceptional employee performance.
The manager-employee relationship is the most important factor for motivating engagement, loyalty and discretionary effort among employees. And management practices significantly influence the quality of that relationship, according to authors Rick Tate and Dr. Julie White, Impact Achievement Group senior managing partners and internationally recognized experts in leadership development and communication skills training.
Generic 360 assessments – provided by peers, direct reports, the boss, the boss' peers, even customers – are often too broad to help leaders effectively manage their employees' performance. They provide managers no clear steps for improvement and leave them virtually alone in finding and implementing more effective management practices.
"A much better approach is to use a focused, direct report assessment – evaluations by those most affected by the manager's abilities," said Dr. White. "The type of assessment provides the manager with more specific information on how they are perceived by their employees, and how they can improve their effectiveness in managing them."
White added that the direct report assessment should also evaluate characteristics and leadership practices that motivate extra effort, high performance and loyalty. And importantly, assessments should directly relate to management training curriculum used within the organization.
One such direct report assessment is Impact Achievement's Leadership Impact Survey™, designed to survey two critical organizational performance areas: how direct reports view the appropriateness and effectiveness of their daily management, and their perspective of the current working environment, of course in areas that managers control.
"Alternatives to 360s: The Manager's Role" is available at
http://www.talentmgt.com/assessment_evaluation/2008/February/539/index.php
About Impact Achievement Group
Impact Achievement Group (http://www.impactachievement.com) is a training and performance management consulting company that provides assessments, coaching, story-based interactive workshops, and simulations for managers at all levels of organizations worldwide. Impact Achievement Group helps companies dramatically improve management and leadership competency for bottom-line results. Company experts and co-authors of "People Leave Managers…Not Organizations," Rick Tate and Julie White, Ph.D. are internationally recognized authorities in leadership development, human performance, service quality and communications.
Contact:
Lee Klepinger
leek (at) impactachievement.com
888/248-5553
Gail DeLano
Fisher Vista/HRmarketer
gdelano (at) fishervista.com
831/588-1567
This press release was distributed through eMediaWire by Human Resources Marketer (HR Marketer: http://www.HRmarketer.com) on behalf of the company
listed above.
###