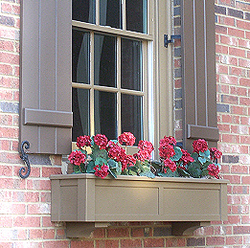 entrepreneur Kurt Buchwald is quite literally changing the face of homes in the Atlanta area with innovative products.
Alpharetta, GA (PRWEB) February 29, 2008
Kurt Buchwald, President and CEO of The Right Angle, Inc., has announced plans to expand into a new facility in March 2008. While their current production of innovative PVC Window Boxes is in the Windward Business Center, Kurt's start-up of his company began modestly in 2003 in his basement. He estimates that the new 6000 sq ft. facility will be big enough to accommodate a 3-to-4-fold increase in current business. It will be located at 2208 McFarland 400 Blvd., Alpharetta, GA 30004
Buchwald states that he built his first, experimental window box for a builder friend who loved the product. According to reporter, Crystal Ledford, of the FORSYTH COUNTY NEWS on June 30, 2005, "entrepreneur Kurt Buchwald is quite literally changing the face of homes in the Atlanta area with innovative products."
During his extensive years of experience in the building business, Kurt noticed that the typical wooden window boxes on newly built homes were rotting less than two years after the homes were built. Often this occurred while builders were still finishing the neighborhood. Instead of traditional wood, Buchwald experimented with a high-density cellular PVC material in the place of wood to build rot-proof Window Boxes. The material had been used for years for home trim boards, but never for any decorative pieces such as the window boxes.
From that point, Buchwald said word of the PVC shutters and window boxes just "spread like wild-fire." More and more of premier home builders wanted to try them out. Buchwald believed AZEK brand PVC would be ideal for just such an application. He ascertained that the PVC would be "100% rot and moisture resistant". He turned his idea into a conceptual reality and his business boomed. Later, he introduced the idea of making a no-rot shutter for many of the same reasons.
Before launching The Right Products, Inc. in 2004, Kurt Buchwald was President and CEO of Buchwald Builders, Inc., building custom-built homes in the $200,000 to $900,000 price range. Prior to founding his own company, Buchwald was a builder for John Wieland Homes, where he won many awards including numerous consecutive "Plaque Homes" and "Awards in Excellence. Buchwald attended Southern Polytechnic State University in Atlanta, where he studied Architectural Engineering.
About The Right Products:
Manufacturing Capabilities
All of their shutters are machine cut with a CNC machine using a patents-pending method that allows us to quickly and affordably make custom sized shutters.
The Right Angle sold over 500 window boxes last year over the internet.
The unique manufacturing facility allows them to turn out custom brackets that meet architectural blueprints in under a week. In fact all of their products for the last 6 months have been shipped out in under a week and usually in less than 3 working days.
"Almost all of our products are custom made, that is where we thrive, being a manufacturer we often get those requests," said Matt Buquoi. "We have made custom window boxes and planters over 14 feet long and faux shutters that were 4 feet wide before also."
Products

Custom PVC Window Boxes
Exterior Shutters (patent pending)
Outdoor "No Rot" PVC Planters
The Right Angle, Inc.
225 Curie Dr, Suite 600
Alpharetta, GA 30005
The Right Angle is gearing up for the 2008 spring system. They are working with Vexcom internet marketing to help promote their website as a major sales channel.
###