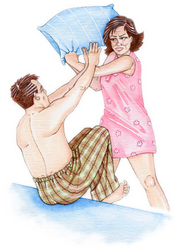 I can't tell you what it's like
Evergreen, Colorado, (PRWEB) February 29, 2008
Beware the menopausal woman. Wicking J. Sleepwear asked a group of men what it was like to live with a menopausal woman; they glanced around to see if their "better half" was nearby. "I can't tell you what it's like," whispered Jay M., "She'd kill me if I talk about it." The others nodded in agreement.
What has these men living in fear? According to Ken B., it's the not knowing that's the worst. "When I get home from work, I never know if she'll be smiling or angry. Whatever I do seems to be wrong," says Ken. "Sometimes I just try to hide."
One woman warned her husband that she would dump him into the lake if she read any of her "hot-cold-hot-cold" stories in this article. Another threatened to throw her husband out a second story window if he persisted in making "cute" comments about her mustache. What's a guy to do?
Not all women experience problems with menopause, but when symptoms occur, it can cause strain in a relationship. According to Judith Sherven, PhD, and her husband Jim Sniechowski, PhD, co-authors of "Be Loved for Who You Really Are", (http://www.JudithandJim.com) "The symptoms of menopause can add stress to any marriage, but that doesn't need to be a problem - provided both people understand that their relationship is going through a growth phase and that both people need to expand their compassion and care for each other."
"It is extraordinarily important that the wife not take her husband for granted or assume that he's unaffected by what she's experiencing," explains Judith. "They need to know they are both going through this time of change together."
"The change", as it's commonly called, affects every woman in a different way; and in turn, affects her partner. Some women experience few to no symptoms, while others run the gamut of physical and mental changes brought on by hormonal imbalance.
What can the spouse/partner do to help? "Be curious," says Judith. "Find out what it feels like to have hot flashes, night sweats, and mood swings. Be respectful that these experiences are real. Offer to help and support in whatever way would be useful, and plan little surprises that say, "I love you" - just as you are now."
Women need to remember that men can't read their minds, and should explain their feelings to their partner and ask for patience. Men may not understand what women are experiencing, but they'll be reassured that her angry outbursts aren't personal.
There's no need to suffer; many products are available that provide relief from menopause symptoms. It's amazing what a little gift will do to make her feel better.

Menopause symptoms can last from just a few months to several years. According to Judith, your relationship can be stronger than ever with a little compassion, understanding, humor, affection, and trust that love is forever and that this is just another "ride" that love is taking you on - together.
About Wicking J Sleepwear
Wicking J Sleepwear is a U.S. based company founded by women for women, and manufactures moisture wicking sleepwear. A portion of the proceeds is donated to the Gynecological Cancer Foundation.
Contact:
Kendra Novick, Founder/President
Wicking J Sleepwear
(303) 674-0309
###