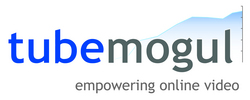 As with all sites we add to our content syndication network, this was driven by requests from content creators
Emeryville, CA (PRWEB) February 29, 2008
TubeMogul, the premier distribution and analytics company for online video, announced a partnership today with online video innovator, Viddler.com.
Under the partnership agreement, Viddler's video creators will receive free access to TubeMogul's acclaimed Load & Track platform, which allows users to upload videos once and have them automatically deployed to multiple top video sharing sites, now including Viddler. Through TubeMogul's integrated analytics, users can then track daily viewing trends and statistics for all of their web videos, giving video creators improved understanding of when, where and how often videos are watched.
TubeMogul's multi-site tracking tools and Viddler's new tagging technology, which enables users to add keywords and comments tied to particular points in a video, will make for some interesting synergies and insights in online video analytics, putting both companies on the precipice of an exciting frontier.
"This is a great opportunity to expand our user base and make life easier for content creators," said Robert Sandie, CEO and founder of Viddler. "We are both pioneers in the field; it's an exciting time for online video."
"As with all sites we add to our content syndication network, this was driven by requests from content creators," reports Brett Wilson, TubeMogul co-founder and CEO. "People are asking for Viddler, and we are excited to integrate them."
About TubeMogul
TubeMogul is an online video distribution and analytics company serving video producers large and small who need independent information about video performance on the Internet and an easy way to deploy their work to the Web's top video sharing sites. TubeMogul's analytic technology aggregates video-viewing data from multiple sources to give video producers improved understanding of when, where and how often videos are watched, measure the impact of marketing campaigns, gather competitive intelligence, and share the data with colleagues or friends. The company's Load & Track service allows users to upload videos once to TubeMogul and automatically deploy them to as many of the top video sharing sites as they want, within the users' specified accounts.
About Viddler
Viddler is the innovative, open, and robust online video platform where novice and professional video podcasters come to engage their audiences with interactive conversations. Through Viddler's timed tagging technology, people can interact at specific moments in the video through tags, and text or video comments in the timeline. Viddler's strength is putting its community first; giving members robust, flexible sharing features, large file uploads and record directly with webcam. Viddler also participates in revenue share with content creators through sponsorships and advertising. In addition, Viddler's APIs give content creators additional capability to recreate the conversational experience on their sites.
###