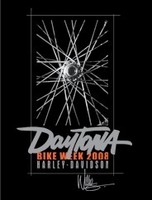 Milwaukee, WI (PRWEB) February 29, 2008
Engines will be revving and the fun will be firing on all cylinders as the Ocean Center Arena will be the heart of Harley-Davidson at Daytona Bike Week 2008.
From the latest bikes and accessories to electrifying entertainment to inspiring events like the Women's Day Ride with 500 female riders, the official Harley-Davidson schedule of events for the 67th Annual Daytona Bike Week at Daytona Beach, Fla. includes something for anyone with a passion for motorcycles and taste for rebellion.
Harley-Davidson will once again be bringing the heart and soul of Daytona Bike Week directly to you at http://www.harley-davidson.com/daytona. A motley crew of correspondents will hit the streets, beaches and race tracks to get the beat straight from Daytona. Be sure to catch the online coverage, including a daily blog, photos and videos.
Official Harley-Davidson Daytona Bike Week activities at the Ocean Center Arena will run from March 2-8. Highlights include:
-Harley-Davidson and Buell New Product Show (March 2-8)
-Women's Day activities and ride arrival (March 4)
-Muscular Dystrophy Association (MDA) Live Auction (March 7) and MDA Bike Raffle (March 8)
-H.O.G. Members Only new product reception on March 2, with H.O.G. Hospitality area, event pins and H.O.G. & Co. merchandise on the first floor during regular show hours.
There will be plenty to do on the Ocean Center New Product Show floor, including:
-Checking out the latest Harley-Davidson and Buell motorcycles, Genuine Motor Accessories and MotorClothes Merchandise
-Seminars and presentations on Genuine Motor Accessories and MotorClothes, such as Install-tainment and the new women's helmets
-Ford Harley-Davidson™ F-Series Truck Display and Adventure Zone Simulator
Activities outside the Ocean Center during Daytona Bike Week include:
-The Harley-Davidson Traveling Museum
-Women's Ride arrival and welcome (March 4)
-Annual Custom Motorcycle Show Contest (March 5)
-B.O.S.S. Ball of Steel Stunt Shows
-Harley-Davidson Festival Stage with music and entertainment
Harley-Davidson, Buell and Police Fleet motorcycle demo rides are available at Daytona International Speedway March 1-8. H.O.G. members will also enjoy the H.O.G. Garage at the Speedway infield (March 2-7) with special reserved parking and seating.
Continue the Harley-Davidson experience at Daisy Stocking Park in Daytona Beach March 4-8 with Black Bikers in the Park. Activities include a Harley-Davidson MotorClothes model casting call, model competition and Fashion Show. In addition, there will be fun activities such as a custom bike show, riding seminars, a temporary tattoo parlor and other entertainment.
For a complete listing of Harley-Davidson Daytona Bike Week events, please visit http://www.harley-davidson.com. Since schedule information is subject to change, please check the on-site Harley-Davidson activities guide for times and locations of entertainment and other special attractions.
Harley-Davidson Motor Company, the only major U.S.-based motorcycle manufacturer, produces heavyweight motorcycles and a complete line of motorcycle parts, accessories and general merchandise. For more information, visit Harley-Davidson's Web site at http://www.harley-davidson.com.
###