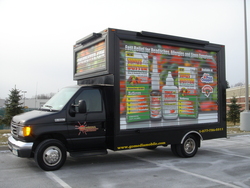 It's all about giving back what was given to me - Life. I want every sick child to have the same chance I got for recovery. St. Jude's delivers the best care regardless of the family's ability to pay
Niskayuna, NY (PRWEB) February 29, 2008
Anthony DiMascio is a 41 year old businessman who credits prayer along with the support of his family and doctors for beating Hodgkin's Disease, a form of cancerous lymphoma first described by Thomas Hodgkin in 1832. As one of the first cancers to be studied in depth, Hodgkin's Disease was also one of the first to be cured with radiation and chemotherapy.
As a teenager in the 1970s, Anthony was one of the first Hodgkin's success stories. Today the cure rate for Hodgkin's is nearly 95% thanks to the tireless efforts of researchers, but when DiMascio first got sick his prognosis seemed bleak. Luckily he found help at a local hospital during a time when doctors had just begun to experiment with modern cancer therapies.
By 18 years old, Anthony was given a clean bill of health as all evidence of his cancer had disappeared into complete remission. Although he is in excellent health today, Anthony will never forget the people who helped him make it through the worst time of his life. Since his brush with death, DiMascio has moved on to start his own successful advertising business, Go Media, Inc. which uses trucks to distribute mobile billboards in high traffic areas throughout New York's Capital Region.
Three years ago, DiMascio attended a charity bowling tournament for St. Jude's Children's Research Hospital which was founded by actor Danny Thomas in 1962. Today, St. Jude's is a top-notch research center providing free (state of the art) medical care for thousands of seriously ill children. St. Jude's spends (84 cents) of every donated dollar on sick kids including travel, housing, therapy and research. Many of the breakthroughs discovered at St. Jude's have become standard medical treatments recognized throughout the world.
Since attending his first fundraiser, DiMascio has been bitten by the "St. Jude's Bug", vowing to use his advertising business to spread the word about the charity and support the local telethon.
"It's all about giving back what was given to me - Life. I want every sick child to have the same chance I got for recovery. St. Jude's delivers the best care regardless of the family's ability to pay," says DiMascio.
Anthony DiMascio will be appearing on the St. Jude's telethon this sunday where he will pledge 50% of his company's advertising revenue to the Memphis based children's hospital over the next two months.
The first advertiser to jump aboard is SiCap Industries, makers of Sinus Buster hot pepper (Capsaicin) nasal sprays. Sinus Buster is sold in thousands of stores throughout the world, and the company just happens to be located in DiMascio's backyard. Sinus Buster has become a staple of local retailers including Price Chopper and Hannaford supermarkets, and the company has plegded to support Go Media's St. Jude's campaign.
According to Wayne Perry, president of SiCap Industries, St. Jude's is an important charity.
"St. Jude's is so important because they save the lives of so many kids. The research conducted at St. Jude's has changed the way terminal diseases are treated throughout the world, and someday their research may lead to a total cure for all cancers. We've advertised on the Go Media trucks in the past because it works for promoting your brand directly to consumers, but if half of the proceeds go to St. Jude's then you're getting the greatest deal ever".
The Capital Region St. Jude's telethon airs live on WRGB CBS 6 hosted in their Niskayuna studios by Greg Floyd and Jerry Gretzinger (11AM - 6PM) Sunday, March 2nd.
###