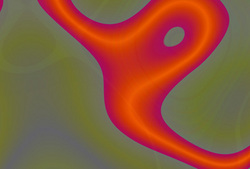 A revolution is happening right now and it's all inside your head
Phoenix, AZ (PRWEB) February 29, 2008
American citizens are growing increasingly concerned over the direction this country has taken, financial woes, healthcare issues, the war. The people of the United States are hopeful for a new start, a new beginning. Every American wants a better life for their family and themselves, but with all the doom and gloom it's difficult to stay positive and upbeat.
"A revolution is happening right now and it's all inside your head," said Debra Ann, founder and owner of Arizona company Hypno-Art.com. "My artwork is a different take on the power of the mind. There is such potential and power within each of us but we need constant reminders of this -- it's so easy to forget all the good things. Hypno Art can be put up in any room of your home and your office for positive reminders of your hopes and goals in life - and it's fun and colorful too!"
Hypno Art is a new series of artwork that blends specific colors and shapes to help remind each person of the power within our own minds and our own potential for change and hope. New science studies show that what we see plays a large part in mood and mindset. Movies like "The Secret" have become popular to instruct and remind us of the immense proven power of our subconscious minds in getting what we want and improving our lives, but that is just the beginning of our journey. Every great idea and every major accomplishment started as a single thought. Thoughts are powerful. Thoughts are the new drug for a generation who want positive change, and the mind is the frontier. As an artist for over 20 years, Debra Ann has taken this information and has created art that uses the powerful interplay between our eyes and our minds, and our minds and our lives.
Hypno Art offers a unique experience, reminders of hope for this nation and hope for Americans in a time in the United States' history when change is truly possible. This art is high-quality giclee printed on heavyweight paper and is ready for framing and available in two sizes.
Products in "The Great Nation" line include:

Hope -- a reminder that each one of us has the power to change and hope for more in our lives.
Health -- healthcare in this country is controversial and is just one piece of the puzzle in this new America.
Prosperity -- darkness gives way to light and hope brings new opportunities for a better life.
Peace -- we soar like eagles to touch each other in serene calm artwork.
Products in "The Change Your Mood" Series include:
"cool as a cucumber" - art to chill by
"someone stop me!" - energizing art
"no more lonely nights" - find the right soulmate
"ED is a horse of course" - art to combat men's unique issues
"hurt no more" - soothing art for a troubled time
Debra Ann said "Don't just let that art hang there on your wall all hapless and slackin' off. Hypno Art looks great on your wall, and also has a distinct purpose! This is art that works for you! I'd say that's pretty cool."
For further information visit the website at http://www.hypno-art.com or call 520-421-1208.
About Hypno Art:
A woman-owned company, the founder Debra Ann started this company with one goal in mind -- to bring create visually pleasing art that will stimulate the senses and uplift the viewers mood in profound and lasting ways. This is Mood Art for a new nation poised on the brink of positive change and beyond.
###