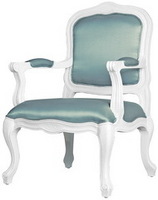 can be intermingled to complete that earthy and eco-friendly feel
North Miami Beach, FL (PRWEB) March 4, 2008
Design- and budget-conscious homeowners who are seeking to add a little upscale trendiness to their living spaces may find just what they're looking for at the newly launched WOWchairs.com. While the Weaves on Woods' (WOW) debut line of limited-edition chairs focuses on traditional workmanship and elegance in an affordable price range, the lineup also manages to incorporate 2008's latest interior-design trends. Named this year's hottest decorating trend, the eco-friendly "Go Green" flavor can be seen in many of WOWchairs' current pieces. To interactively view all the chair designs, wood styles and fabrics, WOWchairs has to offer, visit the company online at http://www.wowchairs.com.
According to the Rohm & Haas Print Quality Institute (PQI), a leading provider of objective, expert advice on paint and how best to apply it, 2008's trendiest interior-design color palette will be "Go Green." Featuring mid-tone hues of fern, palm, pine and sage, the "Go Green" palette embraces eco-consciousness by bringing nature's shades indoors. In addition to verdant tones, "Go Green" also incorporates sandy tans and adobe browns, which "can be intermingled to complete that earthy and eco-friendly feel," explains a PQI spokesperson.
Founded in 1949, Weaves on Woods brings over a half century of uncompromising workmanship in wood finishes and fabric to its limited-edition collection of accent armchairs and straight-back chairs. Visitors to the site will find three chair styles from which to choose: 1) Kloe style armchairs with streamlined, modern curves; 2) Louis style armchairs in an 18th-century regal flavor; and 3) Oval XVI accent chairs for versatile usage throughout the home. Regardless of which style suits their needs and preferences, however, WOWchairs.com browsers will find evidence of the "Go Green" trend in the current fabric options.
All three WOWchairs.com chair styles come in the "Go Green" trend's four core colors. For example, the Upscale Vine pattern features embroidered chenille fronds on a fern background. The palm affluence makes its mark in the Golden Leaf pattern, which showcases a gilded leaf print on a sage-green background. Meanwhile, rich forest pine comes to life in the 100% silk WOWchairs' solid green option.
Those homeowners who are looking to more subtly incorporate the "Go Green" trend into their living spaces can turn to WOWchairs.com's Louis XVI armchairs and accent chairs for inspiration. Sandy tans and adobes lend understated neutrality to the home in these chairs' 100% silk natural brown, brown and tobacco solid color choices.
For more information on Weaves on Woods' current collection of handcrafted, limited-edition armchairs and accent chairs, contact Emily Ingram toll-free at 1-877-511-2424.
To see the full range of wood styles, designs and fabrics the company has to offer, visit them online at http://www.wowchairs.com.
CONTACT INFORMATION:
Emily Ingram
1835 NE Miami Gardens Dr. # 340
NM Beach, FL 33179
1-877-511-2424
info(at)wowchairs.com
http://www.wowchairs.com
###