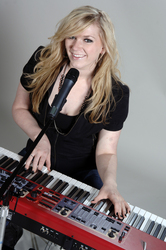 New York, NY (PRWEB) March 3, 2008
Singer-Songwriter Whitney Wolanin a rising Pop-Rock artist known for her storytelling lyrical content and unique hooks has a busy spring planned with a new single 'So Close' being pre-promoted for a release to Top 40 CHR Radio Stations in spring or summer.
Whitney will participate in special pre release promotions involving her 24,000+ MySpace friends and WW club members prior to release of 'So Close' plus special VIP listener promotions in major cities involving over 100,000 music fans in a grass roots introduction of the song to fans. A video of an acoustic version of 'So Close' is also being edited for release in conjunction with the promotions of 'So Close'. 'So Close' will also be exposed to fans at various Radio Station events where Whitney Wolanin will appear in an intimate private setting playing LIVE for fans, who will get the opportunity in a post performance meet and greet to ask questions in person about the songs.
Whitney Wolanin will perform LIVE and make appearances at major league baseball (MLB) games being played in the spring involving the World Champion Boston Red Sox, New York Yankees, Philadelphia Phillies, Cleveland Indians, Los Angeles Dodgers, Minnesota Twins and other Pro sports teams.
Additionally, Whitney Wolanin will perform at the International Convention for Youth Crime Watch of America, (YCWA), Miami, Florida on March 26, 2008 as Whitney is the celebrity spokesperson for YCWA.
Whitney Wolanin has released a new video Whitney Wolanin Loud and Clear Acoustic Live on 24 February 2008 around the world which is an original piano version of the song "Loud and Clear" she wrote with her sister pianist-composer Victoria Wolanin. "Loud and Clear" was licensed by MTV Network for use on TV shows 'The Hills' and 'Newport Harbor'.
Whitney Wolanin has had Radio and chart success with a number of charting songs on the FMQB and Radio and Records (R&R) charts including 'Good' (#7) which is being used on the 'Eye of a Tiger' CD being sold at the University of Memphis NCAA Mens Basketball Games to help raise money for former Coach Larry Finch who has been ill, 'It Takes Two' (featuring vocal legend Jimi Jamison) (#9), Loud and Clear (extended remix #20 on record pool charts and "Loud and Clear" was heard before and after the Harry Potter movies in theaters in 2007 by 8.5 million people), and holiday songs; 'Frosty the Snowman' (#11), 'Silver Bells' (most added at radio), 'Hark the Herald Angels Sing' (worldwide TV broadcast video version played on TV outlets on the EWTN network in 140 countries), and her original song 'Christmas (the Warmest Time of the Year)' (#81) co-written and co-produced with her father Vincent Wolanin and her legendary bass player Bob (Funk Brother) Babbitt. Whitney performed LIVE with her band in 2007 as part of her annual Christmasology™ Show which raises funds for children in need and also helps fund a permanently endowed college scholarship fund, all while attending an international baccalaureate (IB World School) high school full time, playing sports and earning summa cum laude academic honors.
MySpace information on Whitney Wolanin.
###