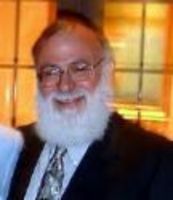 The editing of the FrameWorks series is extraordinarily challenging
Jerusalem, Israel (PRWEB) March 1, 2008
The eagerly awaited debut of the fifth and final book of the FrameWorks Bible series has been scheduled for publication and release by July 1, 2008, announced FJP Publishing, the series' Israel-based publishing house. Copies of the new FrameWorks Deuteronomy/Paroles will be available for purchase in limited quantities via standard internet book distribution channels and at selected judaica stores throughout the United States, U.K. and Israel as well.
The innovative FrameWorks series, conceived and developed by the series' author Matis Weinberg in the early 1990's, has earned critical acclaim by laymen and bible scholars alike as a uniquely crafted collection of thought-provoking analytical essays on the Bible. Weinberg draws from across a wealth of historical texts and sources, subtly and progressively weaving together a powerfully cohesive vision that spans an eclectic spectrum of Torah, science, history, and aesthetics.
"The editing of the FrameWorks series is extraordinarily challenging," remarks Daniel Mokhtar, editing staff member and student of Rabbi Weinberg. "Rav Matis' uncompromising intellectual honesty, poetic eloquence, and aesthetic expectations place commensurate demands on editors committed to the book's integrity of content, detail and form."
Essays are currently being reviewed by an editing team spanning several continents and time zones. Particular focus is being placed on an extensive set of endnotes, indices, and source notes that will allow for further exploration and study of the general audience as well as scholars. FJP estimates that the July 1st release of the long anticipated Deuteronomy edition, which coincides with preparation for the public readings of Deuteronomy around the globe, will be particularly well received among FrameWork's broad reader base.
For additional information regarding FJP publications or other works by Rabbi Matis Weinberg please contact Daniel Mokhtar or visit http://www.thelivingtree.org
About Foundation for Jewish Publications:
The Foundation for Jewish publications is a not-for-profit organization, launched in 1981 as a research affiliation and think tank dedicated to the identification, articulation and actualization of a dynamic, integrated Jewish world-view. Its publication arm was formally incorporated in 1989 as The Foundation for Jewish Publications Inc.
Contact:
Daniel Mokhtar, Director of Public Relations
Foundation for Jewish Publications Inc.
15 School Street. Boston, Massachusetts, 02108
Foundation for Jewish Publications
###