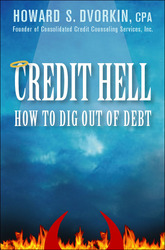 Fort Lauderdale, FL (PRWEB) March 5, 2008
Stressed workers are least likely to perform well on the job because they are constantly reflecting on their current financial situation instead of working. This stress can lead to unhealthy consequences such as drug or alcohol abuse or violent mood swings and excessive fighting with their spouse. 40 to 50 percent of those who are financially stressed have experienced some type of negative impact on their health, according to the Personal Finance Employee Education Foundation.
"People can cause themselves undue stress in a number of ways. Many people get frustrated and angry over the fact that their mortgage, or other bills, are more than their friends or their brothers and sisters, who live in more affordable cities or states. They begin to compare and believe that most people don't have the burden of debt and have a healthier financial future than they do, which results in more stress, explains Howard Dvorkin, founder of Consolidated Credit Counseling Services and author of "Credit Hell: How to Dig Out of Debt".
Dvorkin's tips for dealing with stress and debt are:

Confront the problem. Don't ignore your debt; bring it out in the open. This can initially be upsetting, especially when you realize how much debt you really owe. Pay special attention to your credit card debt - these can spiral out of control fast and affect your credit rating.
If you are married, talk with your spouse about how you will begin to pay back the money. Vow not to use your credit cards. Speak with a professional who can answer your questions regarding loans, credit card debt, and the amount of time you have to pay them back.
Make a commitment that you will pay more than the minimum amounts on the bills you owe - set goals for each bill that you are paying off. It may seem like it will take forever but at least you are committed and now YOU are in control. Repeat to yourself - "I am in control."
Many people equate debt with failure and this produces more stress. If you make the plan and begin the long journey back to financial freedom you will also be relieving your stress. Stay away from the things that are the source of your stress, such as your credit card debt, over spending, self deprecation, and anything else you can think of. If you are watching TV and an ad comes on for people in debt, turn the channel. Those ads only serve as a reminder that you are in debt.
Most importantly don't think of the worst case scenarios, which some in the medical field call "catastrophizing." Your body does not know the difference between what you are imagining and the reality of the situation, so when you do this you are only causing your body to produce more adrenaline, which in turn generates more stress. Stay positive and stick to your plan - and don't forget to congratulate yourself when you reach a goal.
For more tips and advice about money and stress, debt management, dealing with credit card debt, and how to budget, visit http://www.consolidatedcredit.org/.
Consolidated Credit Counseling Service's mission is to help people end financial crisis and solve money problems through education and professional counseling. Consolidated Credit is an industry leader that provides credit counseling and debt management services throughout the United States. Consolidated Credit is a non-profit agency that has helped thousands of individuals and families deal with life-altering credit, debt, and financial issues.
###