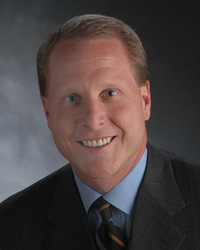 Tim's proven and established track record will help him manage DRE's growth and move the company to the next level.
Louisville, KY (PRWEB) March 3, 2008
DRE, Inc., a premier international surgical and medical equipment supplier based in Louisville, Ky., recently named Timothy L. Jarm as its Chief Operating Officer.
With more than 25 years of experience in healthcare management, Jarm brings his wealth of knowledge of the healthcare industry to this new role at DRE. His hiring follows the company's third consecutive year of more than 20 percent sales growth.
According to Mike Spencer and Charlie Vittitow, managing partners of DRE, the company selected Jarm as COO because of his extensive experience in the healthcare industry and his ability to lead organizational change.
"We conducted a yearlong search for a candidate with the skill and vision to raise the bar," says Spencer. "Tim's proven and established track record will help him manage DRE's growth and move the company to the next level."
Prior to joining DRE, Jarm served as president and CEO at Jewish Hospital Medical Center (JHMC), a premier regional healthcare facility and internationally renowned high-tech tertiary referral center based in Louisville. He was responsible for all major ancillary and support service areas. JHMC has more than 4,000 employees and a combined budget of $480 million.
As president and CEO of JHMC, Jarm initiated a system-wide cultural transformation to create a superior environment for patient care. During his tenure, JHMC was recognized in U.S. News and World Report as a Top 50 Hospital in America for cardiac, orthopedic, and pulmonary clinical services.
Jarm begins as COO of DRE in early March, and sees great potential moving forward.
"Over the last five years, DRE has experienced tremendous growth and success, as we have built upon a history of value-driven products and uncompromised commitment to our customers," says Jarm.
"This is a very exciting time for the organization, as we are well-positioned to become a world-class medical equipment company. I am honored to have been selected, and look forward to the challenge."
In 1992, Jarm joined Jewish Hospital HealthCare Services (JHHS) as the assistant vice president for the regional network. He served as the primary contact between JHHS and each of the network partner hospitals to maximize organizational effectiveness.
In 1994, Jarm was promoted to president and CEO of Jewish Hospital Shelbyville, a 76-bed primary care community hospital. In 2000, he was again promoted and became the president and CEO of the 241-bed, Clark Memorial Hospital (CMH), a Jewish Hospital Health Network partner.
Under Jarm's leadership, CMH received the Gold Quality Improvement Award for Health Care in Indiana and the Overall Quality Improvement Award across all Indiana industries as recognized by Indiana Business Weekly. He initiated the transformation of the organizational culture to redesign the hospital's mission, vision and value statements with a commitment to organizational excellence. Under his leadership, quality scores also improved and turnover rate decreased.
In 2004, Jarm was named president and CEO of Jewish Hospital, a 442-bed tertiary hospital, where he continued his commitment to service and organizational excellence.
Since moving to the Louisville Metro area in 1992, Jarm has been a very active community leader who is committed to the betterment of the community. He has served on numerous boards and committees, including the American Heart Association Board, the Jefferson County Chapter of the American Red Cross Board, the Clark County Family Health Clinic Board, the Southern Indiana Economic Development Board and the Southern Indiana Chamber of Commerce Board.
Jarm served on the Indiana Hospital and Healthcare Association Legislative Committee, the Indiana University Southeast Board of Advisors and the Southern Indiana Chamber Vision 2020 Steering Committee. Jarm was a campaign chair for the United Way of Clark County 2004 campaign, Friends of Scouting Campaign and the March of Dimes, as well as participating on the YMCA of Clark County Capital Campaign.
Jarm is a member of the American College of HealthCare Executives (ACHE), a certified HealthCare Executive, and a registered radiological technician.
Because of Jarm's commitment and dedication to healthcare excellence, he received the "Up and Comer" Award from Modern Healthcare in 1999, the ACHE Kentucky Regent Award in 2000 and the Studer Group Fire Starter of the Month award in April 2003.
Jarm holds a Bachelor of Science in Radiation Medicine/Physics from Wittenberg University and a Master's Degree in Hospital Health Administration from Xavier University. Jarm also holds a Juris Doctorate degree from Cleveland-Marshall College of Law.
About DRE Inc.
DRE is a premier medical and surgical equipment supplier that provides a combination of new and professionally refurbished or used medical equipment to industry professionals around the globe. DRE offers value to doctors by providing the features and reliability they need while still fitting within their budget.
###