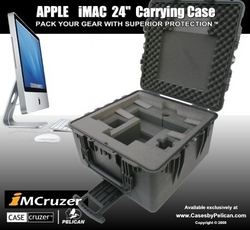 They were the envy of the Super Bowl. We showed up with these things and everybody was like, 'Wow. Where'd you get those?' The other photographers and editors wanted one
Montclair, CA (PRWEB) March 4, 2008
The iMCruzer Apple carrying case creates a sigh of envy among iMac owners who fear a data crash when transporting the delicate high-end 20- and 24-inch computers.
The indestructible Pelican iMCruzer air-line safe shipping case is designed to protect your expensive and delicate Apple iMac 20- and 24-inch computer with aluminum keyboard and mouse. The revolutionary design is another CaseCruzer travel solution.
This breakthrough Pelican carrying case with its custom foam interior protects slim monitors against the jolt and impact of rocky roads, careless baggage handlers and bustling trade shows. The case is 27.38 inches in length and width, and 16 inches high. It weighs about 38 lbs when empty. And like all Pelican products, the iMCruzer is watertight, airtight -- and arrives with an unconditional lifetime guarantee.
The ingenious concept of the iMCruzer carrying case ensures an ideal fit for your elegant desktop because it was inspired by the compact, disposable packaging your iMac arrived in. You know Apple wants your computer to arrive safely. But a shipping box really only needs to succeed once -- upon delivery. Now add CaseCruzer's Pelican Plus mindset and quality control takes on a whole new dimension. The iMCruzer design provides safe arrival not once or twice -- but every time you hit the road or lift off.
Also, the iMCruzer's retractable handle and wheels make it easy to roll through any airport, convention hall or business presentation with flying colors. And the two mangle-proof fold-down side handles provide safe lifting into or out of a car or airport transport vehicle. This lightweight yet crush-proof case is the natural choice for professionals who cannot be without their powerful computers while on business or vacation trips.
Jim Wilson, deputy director of photography at the Boston Globe, had a special destination in mind for his two 20-inch Apple iMacs -- the 2008 Super Bowl in Arizona. He was disappointed that the New England Patriots lost, but thrilled with the reception of his iMCruzers.
"They were the envy of the Super Bowl. We showed up with these things and everybody was like, 'Wow. Where'd you get those?' The other photographers and editors wanted one," he said.
Wilson configured the two iMacs to edit images the six Boston Globe photographers shot during the big game. "I've done a few Super Bowls, and in the past other cases have broken in transit. Or I'm used to shipping equipment in boxes with gaffers tape. I shipped the iMCruzers FedEx and they arrived at my hotel without a problem. I'm a happy customer," he said.
It's no riddle why "Have Apple Will Travel" has emerged as a new irresistible way of life.
Trusting a flimsy laptop and notebook bag is no way to treat a legend. Owners of the sleek and revolutionary Apple iMac have grown accustomed to quality performance and excellent service. And that's the long and short of why CaseCruzer began developing the iMCruzer carrying case: Before the new iMacs were even available, the firm received inquiries about its intentions to create an exclusive travel case that lived up to its reputation for innovation and superior strength and design, all coupled with crowd-pleasing reliability.
Like other CaseCruzer products, iMCruzer is an excellent example of a unique and timely response to the special needs of a population on the move. Ready to roll with your Apple iMac? Think iMCruzer carrying cases. Where one legend meets another.
For more info, visit http://www.casesbypelican.com; call 800-440-9925 in the U.S. or 909-613-1547 internationally; fax 909-613-1979; or write to CaseCruzer at 4665 State Street, Montclair, CA 91763.
Contact:
Mike Bearden
Director of Marketing
(909) 613-1999
(800) 882-4730
4665 State Street
Montclair, CA 91763
###