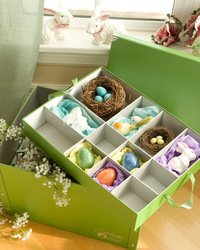 Easter has become one of the most popular holidays for seasonal decorating after Christmas
New York (PRWEB) March 3, 2008
More Americans are decorating their homes for Easter, as well as every other holiday and special occasion throughout the year, leaving consumers with the dilemma of how to store all their seasonal collectibles and holiday decorating items.
Seasonal holiday decorations are typically only brought out for a short period of time each year and then stored away. Valentine's Day themed decorations make room for St. Patrick's Day decorations, which make room for Easter decorations. American consumers are challenged with how to store their treasured seasonal collectibles and keep them all organized.
Sterling Pear, a new brand in sophisticated holiday decorating products, has solved the dilemma of how to store seasonal and Easter decorations with its unique storage products. Originally conceived for storing Christmas ornaments, Sterling Pear has revealed new uses for ornament storage boxes for holidays other than Christmas.
For Easter, the individual sections in each storage tray usually used for ornaments are ideal for decorative marble eggs or delicate Easter chicks. With three pull-out trays, each storage box is big enough to hold up to 52 items, each in their own individual unit. Dividers separate each item keeping things organized and preventing delicate pieces from bumping against each other and breaking.
What's more, the dividers are completely removable and adjustable, so the trays can be customized to make room for a variety of seasonal pieces of different shapes and sizes, including things like ceramic Easter bunnies or delicate bird nests. Tissue paper or paper shred should be used to fill in gaps and prevent pieces from shifting. Or better yet, raffia can be used both to cushion the item in the storage box and also used for display with collectibles to resemble grass.
The variety of spring-themed home décor items is becoming more extensive every year. "Easter has become one of the most popular holidays for seasonal decorating after Christmas," says Heather Dietrich, Co-founder and President of Sterling Pear. "This time of year people are wishing for warmer weather so badly they often attempt to transform their interiors to a springtime fantasy. And luckily, Sterling Pear has figured out how to get it all organized and put away when the season is done."
In addition to its holiday and ornament storage products, Sterling Pear's product line includes a variety of other elegant holiday decorating items. Sterling Pear is the premier holiday source for both sophisticated design and ease of use, which is encompassed in Sterling Pear's slogan, "Holiday Elegance Made Simple." The entire line of Sterling Pear products is available for purchase by consumers at http://www.sterlingpear.com. Sterling Pear is a women-owned business based in New York City.
More year-round holiday decorating and organizing tips are available at Sterling Pear's blog.
(High resolution images of Sterling Pear products are available upon request.)
# # #