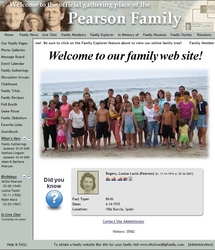 MyGreatBigFamily.com offers families a unique private interactive and educational online experience that everyone in the family can participate in
New York (PRWEB) March 6, 2008
MyGreatBigFamily.com today announced it has enhanced it's popular private family website service with new interactive features and options. Included in this latest list of enhancements is a clever scheduable monthly Family Newsletter feature which automatically rolls up a summary of all the changes that have occurred on your family website and sends them out to family members in an email and then archives the newsletter on the family website. Simply pick a date each month for the newsletter to go out and the system automatically generates, sends and archives the newsletter. A new online game room allows family members to play high quality online games on their family website. A built-in high score system lets you record your game scores for others in your family to try and beat. Also new is an extensive library of licensed music which family members can optionally add to their Jukebox to play on their personal homepages within the family website. The new EZ Homepage Creator makes it easier than ever for family members to manage their personal homepages within the family site. The site's genealogy features and tools have been enhanced with additional family tree views, report options and new icon options.
These new features are a great compliment to the extensive list of interactive features already included in the program such as photo galleries, online family tree, professional genealogy tools, news blogs, personal family member homepages, messaging, live chat, event calendar, slide shows, family recipes, family stories, clubs, family trivia and polls.
In addition to these new features are new pricing options which allow for unlimited photo uploads and multi-year subscription discounts.
MyGreatBigFamily.com websites are uniquely designed to provide a feature rich interactive online experience for extended families. An online gathering place where every member of ones family (children, siblings, parents, grandparents, aunts & uncles and cousins) can all be active participants within the same private family web site for one price. Not only can everyone interact and add content to the common areas of the website but each family or family member can create their own personal space or homepage within the family site where they can add and share their personal photos & news. It's like having many family websites in one but without the associated costs of everyone having to purchase and maintain separate websites. The extensive interactive features and family tree & genealogy tools make it make it both fun and educational allowing families to stay in touch, share their special memories and preserve their family history.
"MyGreatBigFamily.com offers families a unique private interactive and educational online experience that everyone in the family can participate in," says Deborah Panetta, president of MyGreatBigFamily.com.
MyGreatBigFamily.com
Helping bring families closer together
http://www.mygreatbigfamily.com
###