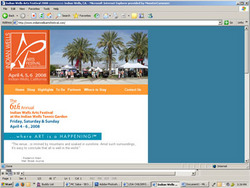 Art Beyond the Visual - An Exhibit to Touch
Indian Wells, CA (PRWEB) March 4, 2008
On April 4th - 6th, the Sixth Annual Indian Wells Arts Festival brings a splash of color to the Indian Wells Tennis Garden where Art is a Happening! More than 200 award-winning California artists and internationally renowned artists travel from throughout the country to participate. They bring with them hundreds of one-of-a-kind hand made pieces of art and invite visitors to meet and buy directly from them. The annual juried fine arts festival promotes the synergy of art with on-site art demonstrations, and celebrates community.
This year's special exhibit entitled, "Art Beyond the Visual - An Exhibit to Touch" encourages all to feel the texture of brush strokes, trace the layers of paint, and follow the artists' path of creation. The Braille Institute brings their displays of artwork, and a silent auction is scheduled for each day of the art and craft show calendar. Braille school children will make a trip to the festival on Friday morning, and blind folk musician Earl Rivard, Jr. is scheduled to perform throughout the weekend.
Dianne Funk, producer and owner of the Indian Wells Arts Festival, describes the event as follows: "We promote both globally celebrated and emerging California artists within a festive environment designed to be enjoyed by all. The creative projects and participation of local organizations enhances our venue while we donate to their art programs and scholarships. With live entertainment and so many activities, people enjoy coming out and spending the day in this beautiful artisan village."
In addition to this year's sensory exhibits, the festival offers on-site demonstrations including glass-blowing, painting, weaving, large scale sculpturing, mural painting, children's activities, wood carving, and pottery throwing. A "Tour de Trash - Recycle Bicycles" exhibit shows the whimsy side of old bikes twisted, painted and embellished.
"The Indian Wells Art Festival is designed to create a great event experience and community celebration," says producer Dianne Funk. "It is the best way to add to a collection - or to start one!" Funk adds.
The venue, located in the Palm Springs Desert Resort Community, is a state-of-the-art tennis stadium, home to the Pacific Life Open. The grass concourse is surrounded by mountain vistas and aglow with California sunshine. This year's event poster, appropriately titled "SunKissed" by colorist P.K. King of Helendale, CA, is an oil painting of the surrounding desert mountains. Visit Indianwellsartsfestival.com for information.
About the Indian Wells Arts Festival:
The Indian Wells Arts Festival is a premier fine arts festival featuring 200 judged and juried artists and hundreds of pieces of one-of-a-kind artwork available for sale. The artisan village environment includes wine tasting, a gourmet market, children's activities, entertainment, and refreshment to add to the festival atmosphere. Owner Dianne Funk has more than 20 years experience in production and art show promotion.
###