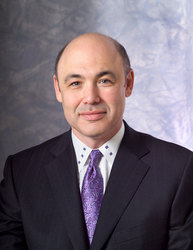 Chicago, IL (PRWEB) March 4, 2008
On Feb. 20, after being in constant pain for more than two years, Mark Rutter became one of the first patients to be implanted with a tiny nerve stimulator to treat neck pain.
"The first three days after the surgery, I was taking about 1/10 the amount of pain-relief drugs I took before," says Rutter. "And since day four, I've taken no drugs at all--so the stimulator works!"
"Subcutaneous, or under-the-skin, nerve stimulators are the latest development in treating neck pain that has been unresponsive to other approaches," explains Rutter's lead surgeon, Chicago pain management physician Eugene Lipov, MD.
Peripheral nerve stimulators are commonly used for relieving pain in the back, abdomen and the back of the head, as well as pain caused by shingles. But Dr. Lipov and his colleague Jay Joshi, MD, are the first to use a new, smaller stimulator from Medtronic to help relieve unremitting neck pain.
"The Medtronic nerve stimulator is only nine millimeters thick and about 54 millimeters wide. It works by blocking pain signals the body sends to the brain," Dr. Lipov explains. "And the tiny stimulator is virtually undetectable when implanted under the skin."
Rutter injured his neck in December 2005 after lifting a heavy TV set, and had since been unable to turn his head without significant pain. He tried physical therapy, injections, narcotic painkillers--even disc-removal surgery--but the pain persisted.
A discogram, a diagnostic method used to evaluate which disc is causing pain, revealed that Rutter had three painful discs. "The usual option for patients like Mr. Rutter is a three-level fusion, which his spine surgeon informed him is relatively complex surgery with an uncertain outcome--a last resort," says Dr. Lipov. "Mr. Rutter did not want to have the procedure. If he did have that surgery, he might not have gotten the pain relief he was seeking, and would still not have been able to play golf."
Rutter, who runs a company with 250 employees, was frustrated at the way narcotic painkillers were affecting his thinking. "In my work, I have to be able to think clearly," he says.
And he wasn't acting like himself. "My family said they noticed my behavior was modifying, and they thought it was because of the amount of narcotics I was taking for pain relief," Rutter recalls. "The electrical nerve stimulator breaks up the pain without drugs, and allows me to have a normal thought process. I feel good!"
"It was a very quick surgery," Rutter continues. "I was in and out of the hospital in one day. "I have three incisions. It's kind of like an underground water sprinkling system. The nerve stimulator is placed in my abdomen, and there are two places in my back where they run the tiny wires to the points in my neck where the pain was. I'm confident this is the long-term solution for me," says Rutter. "In three months, I'll be back on the golf course. It's been a long time since I've played golf, and I miss it a lot."
Eugene Lipov, MD, and Jay Joshi, MD, are pain management specialists with offices in Chicago and suburbs. They focus on developing new technologies to help patients live free of pain. For more information, visit http://www.painmngt.com or call 877.964.7246.
###