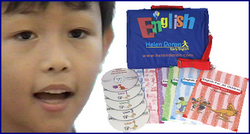 I want to make money, of course I'm a businessman, but I also want to focus on something I can believe in as a human being - and that's a better life for children through a superior educational product.
London, UK (PRWEB) March 6, 2008
The Chinese term for 'franchise' is known as 'texu-jing-ying', and it's the buzzword on the lips of many successful Chinese entrepreneurs these days, like Helen Doron Master Franchise for Shanghai, Nick Shiah. "I think Helen Doron Early English is a perfect fit for China" says Nick, who believes whole-heartedly that the Helen Doron English learning system is absolutely the best children's educational product available anywhere in the world for the Chinese market.
In operation internationally for over 20 years, the exclusive Helen Doron English method and materials make the most of children's in-born receptiveness to languages - reaching all ages, from 3 months up to 14 years. With Helen Doron, children learn English naturally, just as they would their mother tongue. Lessons are conducted small groups, within a playful, musical and nurturing environment. The unique Helen Doron system also helps promote children's cognitive skills for increased learning capacity and retention.
"In China," comments Nick, "language education has traditionally only been through drill and memorization. Until now children were never expected to actually enjoy leaning, so it's a real treat to see youngsters smiling and singing the songs they've learned in English after a Helen Doron lesson - and very satisfying for the parents too. The Helen Doron Early English method allows children to learn a vital tool for future success - English, but in an enjoyable way, which achieves the best results."
In 2002, Nick started as a Helen Doron Learning Centre Franchisee, but soon realized the huge potential for Helen Doron educational products in China. In 2005, before anyone could beat him to it, he grabbed the opportunity to become the Helen Doron Master Franchisor for Shanghai. Nick recently experienced a whirlwind tour to Helen Doron International Headquarters in northern Israel, accompanied by his newest administrative manager Andrew Qui. Their mission was to get fully updated face to face on the newest generation educational programs and expanded learning materials that sets Helen Doron apart from the rest.
Nick and Andrew enjoyed a round of new product orientation meetings with Anne Gordon, VP of Business Development for the Helen Doron Educational Group, and met with CEO and Founder Helen Doron. "We'll be hearing great things from Helen Doron Shanghai, and expect further HDEE franchises to start up all over China", explains Anne Gordon. "We truly anticipate unprecedented growth there, because the rapidly expanding franchise market in China is ripe to receive a high quality educational product such as Helen Doron Early English." (http://www.helendoron.com/business-opportunities.php)
Nick certainly has the right qualifications to make a success of the Helen Doron franchise in China; possessing high-level business credentials and a steadfast commitment the product. Born in Taiwan, then moving California where he grew up and graduated from UCLA, and returning to the Far-East, Nick arrived at the top of the career ladder in record time. He now confides his interest in Helen Doron is two-fold. "I want to make money, of course I'm a businessman, but I also want to focus on something I can believe in as a human being - and that's a better life for children through a superior educational product."
Andrew, born in China and educated in the UK, is also glad to be at the forefront of a business that has the best interest of children as its core commitment. "Now is the time for children's educational enrichment in China", he comments "and I want to be a part of promoting a quality learning program like Helen Doron Early English. Parents from all cultures agree; having a good command of English is their children's ticket for success".
Helen Doron Early English offers a total of 12 courses in English for children: 7 years of spoken English (with optional reading and writing) for infants and younger children, and 3 years of speaking, reading and writing for older children, plus additional school courses for larger groups grades 1 - 3. (http://www.helendoron.com/about-us.php)
For more information please contact:
Marketing Communications Marie Orian
+972-4-902-7900
+972-4-999-0543
info @ helendoron.com
http://www.helendoron.com
More quality Helen Doron educational products:
http://www.mathriders.com
http://www.supernature1.com
http://www.ready-steady-move.com
###