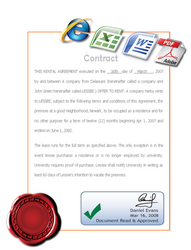 Exhibiting with our distributor, Apsec, in the same hall, strengthens the CoSign brand and enhances market awareness as to how business processes can be aided significantly by comprehensive solutions like CoSign.
Hanover, Germany (PRWEB) March 3, 2008
ARX (Algorithmic Research), a leading provider of digital signatures (standard electronic signatures), will be showcasing CoSign® with two of its partners, D-TRUST and Apsec, at CeBIT 2008, in Hanover, March 4-9. At the fair, ARX will be presenting CoSign®, their digital signature solution, and its ability to seamlessly integrate with Microsoft Office SharePoint 2007. Both partners displaying CoSign are located in Hall 6, with D-Trust at stand E 38 and Apsec at stand G 46. D-Trust is the latest partner to have signed an agreement with ARX, reselling ARX's CoSign digital signature solution to their German customers.
CeBIT is the world's largest trade fair showcasing digital IT and telecommunications solutions for home and work environments. CeBIT offers an international platform for comparing notes on current industry trends, networking, and product presentations.
During the event, ARX, D-TRUST, and Apsec presentations will feature CoSign's cost-effective digital signatures solution, in combination with Microsoft Office SharePoint 2007. The CoSign and SharePoint integration enables multiple architectures to serve dispersed and mobile collaborations throughout an organization. CoSign has been tailored for the Microsoft application environment to allow users to digitally sign in Microsoft Office SharePoint 2007, Office 2000, 2003, 2007, SPS2003, InfoPath, Outlook, BizTalk, and ISO, or Adobe PDFs. Further, CoSign plugs into the Microsoft management framework as a standard compatible system under Active Directory, Windows Kerberos, and the Microsoft Management Console (MMC). CoSign's centralized approach features web trusted certificates, a web service API based on OASIS DSS for custom Microsoft, and zero management of keys or certificates. The solution's net applications and the server-appliance options include a FIPS 140-2 Level 3 or IBM System x server.
In addition to standard digital signatures, CoSign also provides graphical signatures embedded into documents, along with the PKCS#7 digital signature block. Moreover, CoSign supports commonly used strong authentication devices, client and server software. These include RADIIUS-based OTP systems, USB tokens, Smart cards, and Biometrics devices. Support for mobile devices and software-only authentication solutions will be announced soon.
"Our co-initiative with D-TRUST, a highly-regarded and leading European trust center, helps both ARX and D-Trust enhance their market positions as leading providers of enterprise digital signature solutions in Europe in general and Germany specifically," said Dov Sharon, VP Business Development, Intl., ARX. He added, "Exhibiting with our distributor, Apsec, in the same hall, strengthens the CoSign brand and enhances market awareness as to how business processes can be aided significantly by comprehensive solutions like CoSign."
"CoSign helps optimize and speed up paperless processes within customers' deployments," said Ivo Moszynski, Head of Product and Solution Marketing at D-TRUST. Ivo continued, "Our work with CoSign adds significant and numerous possibilities to our product portfolio."
About D-TRUST
Founded in 1998, D-TRUST GmbH, a wholly owned subsidiary of Bundesdruckerei, develops and markets high-security products for electronic signatures. The accredited trust center is situated in Bundesdruckerei's high-security value printing building. D-TRUST offers interoperable and approved signature products and the corresponding consultation services, as well as the entire spectrum of trust center services for both business customers and legal authorities. Furthermore, D-TRUST is currently the only German trust center authorised to issue both qualified certificates and qualified certificates with voluntary supplier accreditation. For more information, please visit http://www.d-trust.net.
About Apsec
Apsec develops products and solutions to make the IT world safer. Their work includes consulting, customization of software products, network security options, and integration for pre-existing environments. In addition, Apsec provides their own software solutions for file encryption, qualified electronic signatures, and web security. For more information, please visit http://www.apsec.de/.
About CoSign®
The CoSign approach means digital signature standards and efficiencies across your operations. Signing and sealing documents with CoSign immediately expedites business processes, reduces costs, increases security and enables organizations to comply with diverse regional and industry regulations. CoSign works with all major applications and document formats including: Microsoft® Word, Excel®, Outlook®, Adobe® PDF, TIFF, AutoCAD®, InfoPath®, Lotus Forms, and many more). CoSign signatures are being used by hundreds of thousands of users in Enterprise, B2B and B2C processes, to learn why please see our white papers and product details at http://www.arx.com/products/cosign-digital-signatures.php.
About ARX (Algorithmic Research)
ARX has over 20 years of experience assisting banking, financial services, life sciences, healthcare, governmental organizations and commercial sectors to secure and streamline their business processes and transactions. ARX offers a wide range of highly scalable products designed to simplify, secure, and accelerate electronic business. For more information, please visit http://www.arx.com.
CoSign® is a registered trademark of Algorithmic Research, Ltd. All other trade names and trademarks are the property of their respective holders.
###