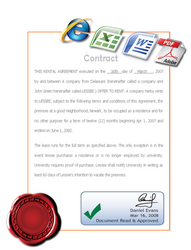 Our customers show a great deal of interest in the combined offering of SharePoint and a complete, out-of-the box digital signature solution
Seattle, WA (PRWEB) March 4, 2008
ARX (Algorithmic Research), a leading provider of digital signatures (standard electronic signatures), will be presenting at the Microsoft SharePoint Conference, in Seattle, Washington, March 3-6. At the conference, John Marchioni, ARX's VP of Business Development, Americas, will be speaking about the administrative, legal, and best-business practice enhancements to SharePoint deployments that are gained with digital signatures. ARX will also be exhibiting CoSign®, their digital signature solution, and its ability to seamlessly integrate with Microsoft Office SharePoint 2007.
The conference focuses on the latest innovations, features, and functionality for the Microsoft Office SharePoint 2007 integrated ECM solution. The conference also provides an opportunity for customers and partners to meet and network with the Microsoft Office System product development teams, fellow professionals, and partners.
The CoSign and SharePoint integration enables multiple content-enabled vertical applications (CEVAs) to serve dispersed and mobile collaborations throughout an organization. Cosign has been tailored for the Microsoft application environment to allow users to digitally sign in Microsoft Office SharePoint 2007, Office 2000, 2003, 2007, SPS2003, InfoPath, Outlook, BizTalk, and ISO or Adobe PDF. Further, CoSign plugs into the Microsoft management framework as a standard system under Active Directory, Windows Kerberos, and the Microsoft Management Console (MMC). CoSign's centralized approach features web trusted certificates, zero management of keys and certificates, and an optional web service API based on OASIS DSS for Microsoft. Net applications.
Microsoft partners providing Microsoft Office SharePoint business solutions in industries such as Life Sciences and Healthcare have successfully deployed integrated solutions with ARX's CoSign system. Zikria Syed, CEO of NextDocs Corporation, the leading document management software company for Microsoft SharePoint, explained that their reasoning behind utilizing CoSign was multifaceted, "NextDocs chose CoSign because its server-based client architecture matched our customers' mobile, web-based user environments." Syed added, "CoSign's intuitive API made integration quick and efficient and allowed us to meet our aggressive development deployment schedules supporting SharePoint Server. From the business perspective, our customers are very happy about the quick ROI payback period with CoSign."
"The workflow-related integration between CoSign and SharePoint delivers high value for the joint customers, and meets the requirements of a digital signature solution, especially in Life Science and Health care markets" said Ruediger Dorn, Managing Director, Worldwide Pharmaceutical Industry, at Microsoft. "Our customers show a great deal of interest in the combined offering of SharePoint and a complete, out-of-the box digital signature solution" added Dorn.
"Our turnkey approach to delivering digital signatures is a game changer for the ECM, BPM, and workflow solutions market." said John Marchioni, Vice President of Business Development, Americas, at ARX. "Customers that invest in CoSign and an ECM solution, quickly expand the footprint of their business through standard electronic signatures that provide proof of signer identity, intent, and transaction integrity, anytime and anywhere."
Visit ARX at our booth (#207) at the Microsoft SharePoint Conference, as well as our booth (#3241) at the AIIM International Conference & Exposition in Boston, Massachusetts, and learn how digital signatures can secure the data integrity and non-repudiation of documents generated by your business.
About CoSign®
The CoSign approach means digital signature standards and efficiencies across your operations. Signing and sealing documents with CoSign immediately expedites business processes, reduces costs, increases security and enables organizations to comply with diverse regional and industry regulations. CoSign works with all major applications and document formats including: Microsoft® Word, Excel®, Outlook®, Adobe® PDF, TIFF, AutoCAD®, InfoPath®, Lotus Forms, and many more). CoSign signatures are being used by hundreds of thousands of users in Enterprise, B2B and B2C processes, to learn why please see our white papers and product details at http://www.arx.com/products/cosign-digital-signatures.php.
About ARX (Algorithmic Research)
ARX has over 20 years of experience assisting banking, financial services, life sciences, healthcare, governmental organizations and commercial sectors to secure and streamline their business processes and transactions. ARX offers a wide range of highly scalable products designed to simplify, secure, and accelerate electronic business. ARX successfully completed its MBO acquisition from Cylink Corporation, today SafeNet, Inc. (NASDAQ:SFNT) in 2001.
For more information, please visit http://www.arx.com.
CoSign® is a registered trademark of Algorithmic Research, Ltd. All other trade names and trademarks are the property of their respective holders.
###