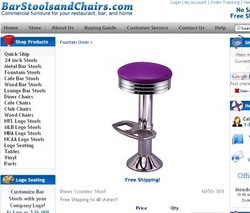 These are perfect when vintage-style bar stools and retro chairs are needed to lend an authentic ambience, and most of our products are proudly manufactured in the USA
Chicago, IL (PRWEB) March 4, 2008
Take the time to relax and sit a spell on a favorite sports logo, vintage style soda fountain stool, or swivel club chair from BarStoolsandChairs.com. Announcing the grand opening of their new online store, this commercial custom upholstery retail business offers a wide range of custom vinyl café chairs, logo bar stools, soda fountain stools, counter stools and lounge chairs for use in restaurants, bars, homes and many other venues.
Matt Kennedy of BarStoolsandChairs.com explains: "We are making hard-to-find commercial grade furniture products available to the masses. Customers who have trouble finding these products elsewhere come to us for commercial quality in items like our diner chairs, backless bar stools, and bucket seat bar stools that look great and hold up even with regular use."
BarStoolsandChairs.com specializes in crafting custom bar stools that feature favorite sports teams as well as company and organization logos. These are commercial grade logo-embellished bar stools or counter height bar stools that can be printed in any Pantone color, allowing a business to make a unique statement when they select seating. Built to last for years, their diner chairs and commercial bar stools are ideal for restaurants, automotive supply businesses, or any other industries where seating is provided for customers. Kitchen bar stools are also popular in residential interior design with the current interest in anything vintage or retro. Additionally, they can be tailor-made and given as gifts.
"These are perfect when vintage-style bar stools and retro chairs are needed to lend an authentic ambience, and most of our products are proudly manufactured in the USA," affirms Matt Kennedy.
This quality furniture is backed by responsive customer service and expedient production and shipping times. In fact, the lead time for most custom orders is two to three weeks, while a quick-ship item can be ready to ship in two days. The ordering process at easy-to-navigate BarStoolsandChairs.com is followed by free shipping on all orders that are delivered in the 48 contiguous United States. With a straightforward guide for selecting the desired specifications based on seat height, finish, color, and more, BarStoolsandChairs.com is a comprehensive solution for incorporating durable custom bar stools and other quality furniture in commercial or residential venues.
For more information about BarStoolsandChairs.com and the kitchen counter bar stools, diner chairs and more in their store, please visit BarStoolsandChairs.com.
About BarStoolsandChairs.com:
BarStoolsandChairs.com offers an extensive selection of fountain stools, counter bar stools, club chairs, tables and more. Specializing in custom logo bar stools, BarStoolsandChairs.com can make products tailored to color and logo preferences and supply high-quality, commercial grade furniture for use in restaurants, bars, kitchens, shops and more.
###