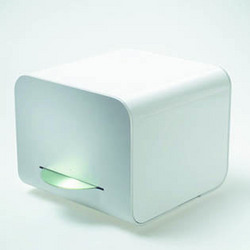 (PRWEB) March 4, 2008
The first product of its kind, Ripserver can store up to 2400 albums in MP3 format with a USB port for the option of additional storage. Not only does this small box with big storage capability store and protect your valuable music, the built in CD ripping engine lets you effortlessly rip CDs without having to use a PC.
Once plugged into your network, operation is simple. With a fan-less, noiseless design, Ripserver is designed for 24/7 operation - simply insert a CD into the drive and the CD is converted to MP3 or FLAC within a few minutes, added to your media library and available on a network share, then gently ejected.
Ripserver is compatible with many entertainment devices such as Linn DS, Sonos, Logitech, PS3 and Xbox 360 and is the ultimate companion to these systems - making access to your music simple and immediate.
Patrick McGrath - Ripfactory's Director of Technology and self-confessed digital music nut is delighted to be reaching the home user market with Ripserver:
"The digital music industry is booming, and yet 90% of UK albums are still being bought on CD. Designed with these facts in mind, Ripserver is the ideal solution.
We at Ripfactory are delighted to be offering such a unique product which lets home users enjoy and access their music simply and efficiently."
Ripserver runs on the Linux platform which offers supreme stability and CD ripping is provided in a secure way to negate any errors in both FLAC and MP3 formats and the entire system is fully configurable via a dedicated web interface. Ripserver is fully UPnP and DLNA compliant.
Availability
Ripserver goes on sale 1st March from http://www.ripfactory.com/ripserver and selected retailers worldwide.
Available in black or white finish, a Ripserver with a 1TB capacity costs £699
About Ripfactory
Ripserver is powered by Ripfactory, based in Belfast, Ireland.
Ripfactory provides dedicated services to the audio industry for CD audio and DVD digitisation, automated systems, and OEM solutions to support the move to digital music. With a wealth of experience in the digital music field, Ripfactory is the first choice for the professional user and with the development of Ripserver, is now also committed to providing the most current and innovative technology for the home user.
Founded in 2001, Ripfactory is a privately held company, serving customers in over 30 countries.
###