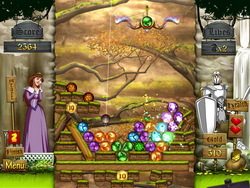 Edmonton, Canada (PRWEB) March 4, 2008
PlayPond, a leading developer of casual games, today announced the launch of DragonStone™, a new puzzle action game. DragonStone brings together elements of fantasy role-playing, adventuring, and puzzle action for a unique game experience that appeals to all ages. DragonStone carries a retail price of $19.99, and a free demo of the game, with no time limit, is available for immediate download at PlayPond Games. Under development for more than two years, DragonStone is PlayPond's most ambitious and largest title to date.
DragonStone brings to life a world of fantasy and enchanting visuals in an action packed game. Players take on the role of Baldric the Knight on his perilous quest to recover the DragonStone. Players will have to overcome puzzles, interact with strange inhabitants, and use the gold they collect to buy character upgrades as they journey across 8 different lands.
Game play consists of color-matching, puzzle-solving, and action. A bow located at the top of the screen is used for dropping stones or firing arrows into a scrolling playfield. Each playfield is made up of numerous puzzle obstacles and enemies that float on top of platforms.
Puzzle elements are overcome by matching them with similar colored stones while enemies can be dispatched by shooting them or by using one of the game's power-ups. Players will also win Honors for completing specific tasks within the game, such as defeating 25 enemies. The unique blend of puzzle elements, rewards, and unfolding storyline gives players a great sense of progress and accomplishment.
DragonStone Key Features include:

Adventure and Puzzle Game Modes
Unique Action and Puzzle Elements
80 Original Levels
Multiple Game Endings
Unlockable Honors
Upgrades
Incredible Visuals and Sounds
About PlayPond:
PlayPond develops games that are fun to play and have mass market appeal. The company is owned by pixelStorm Inc. and operates http://www.PlayPond.com offering game downloads across multiple genres including Hidden Object Games, Arcade Games, Puzzle Games, and Simulation Games. In 2005, the company released Bankshot Billiards 2, a billiards simulation game, for the Xbox 360 Live Arcade. The company has also developed casual games for Microsoft and Electronic Arts.
PlayPond, pixelStorm and DragonStone are trademarks of pixelStorm entertainment studios Inc. and may be registered in some countries. Other company and product names may be trademarks of their respective owners and are used for the benefit of those owners.
Contact:
PlayPond Games
http://www.playpond.com
###