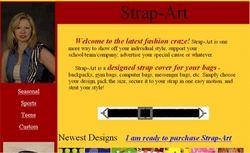 I noticed almost all bags have black straps and thought they could use some design; some fashion
New York, NY (PRWEB) March 4, 2008
While most ventures into fashion for everyday accessories like computer bags, bookbags, and gym bags involve pricey entire new bag purchases, one New York entrepreneur has found a way to showcase individual fashion everyday both affordably and with versatility. John Martinez introduces Strap-Art: fashionable fabric covers for otherwise unsightly bag straps. Instead of spending a lot of money on a whole new designer bag purchase, the fashion-conscious can get multiple designs of strap covers to adorn their newly unique messenger bags, bookbags, and gym bags.
"I noticed almost all bags have black straps and thought they could use some design; some fashion," explains Martinez, President of Strap-Art.com. The realization led him to work with Interior Designer, Lynne Einsel, to design dozens of hip, fun, eye-catching strap covers.
Essential to Strap-Art's strap covers is the ability to easily change out styles to fit a mood or outfit. Since the fashionable covers are affixed to the bag's existing strap using Velcro, changing from style to style is quick and easy.
In addition to the range of designs available, Strap-Art.com takes its ability to create truly unique messenger bags, duffel bags, and bookbags a step further--they will custom-make a designer strap cover using any fabric sent to them. Martinez highlights their custom Strap-Art option: "We can make your Strap-Art unique to you so it will showcase your individual style." This customizable designer strap is also a great way to coordinate with team or school colors, company logos, or special causes.
Strap-Art.com showcases the large selection of strap designs available. Teens can find hip covers for their bookbags and gym bags: sporty styles, cute pink prints, animal prints, retro designs, and even camouflage. The sleek snake-skin designs are great choices for both students and executives who are searching for fashionable laptop bags to carry.
Aspiring trendsetter customers can order Strap-Art covers in two sizes: short and long. The short style fits backpack straps, while the long style fits messenger, laptop, and duffel bag straps.
To browse through the styles available for fashionable laptop bags, gym bags, bookbags, and messenger bags or to learn more about customizable Strap-Art strap covers, please visit Strap-Art.com.
About Strap-Art.com:
John Martinez is a renowned New York City Entrepreneur that saw the need for fashion on the hundreds of ugly black bag straps he saw daily. He consulted with New York and Connecticut interior designer Lynne Einsel to develop Strap-Art. As opposed to the latest designer bag fashion craze, the newly released Strap-Art bag strap covers are an affordable yet stylish alternative to owning multiple expensive bags.
###