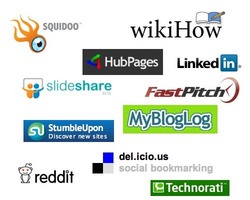 The time has come to get more creative with the types of content published for search engine optimization and link building purposes. By creating the right type of content and publishing content strategically, companies can build their reputations while also generating more visibility in the search engines
La Quinta, CA (PRWEB) March 4, 2008
To address the changing demands of today's search engine optimization strategies, SEO copywriting firm SEO Content Solutions has launched three new content marketing packages that leverage the power of today's hottest social media, multi-media, and user generated content sites.
"In the past, SEO copywriters typically produced content for websites and articles for article marketing. In a changing online world, these pieces alone are not enough for a solid search engine marketing campaign. By publishing quality content on today's new media channels, companies have the potential to secure multiple first page results while strengthening the position of their primary website," says Christine O'Kelly, founder of SEO Content Solutions (http://www.seocontentsolutions.com).
SEO Content Solutions allows SEO companies, traditional marketing companies, web developers, and other value-added partners to "rebrand" their SEO copywriting services in order to provide more services to their monthly clients. SEO Content Solutions acts as a seamless part of the partner organization, allowing partners to expand their service offerings and earn additional revenues. The team is comprised of US based writers with expertise in search engine optimization, marketing, sales, blogging, and social media.
"The time has come to get more creative with the types of content published for search engine optimization and link building purposes. By creating the right type of content and publishing content strategically, companies can build their reputations while also generating more visibility in the search engines," says O'Kelly.
The new SEO content marketing packages combine fundamentals of publicity and marketing with search engine optimized content. Content packages include producing optimized content for publication on:

Squidoo
Hub Pages
Scribed
eZine Articles
PRWeb
Blogs
Slideshare (slideshows)
Podcast directories (podcast interviews)
SEO Content Solutions also offers a reputation management package which includes building optimized profiles and producing content on social bookmarking and user generated content sites including:
MySpace
Linked In
Fast Pitch
Del.icio.ous
My Blog Log
Stumble Upon
Reddit
About SEO Content Solutions: SEO Content Solutions (http://www.seocontentsolutions.com) is a leading provider of SEO copywriting and content for high quality, ethical SEO firms. The company is passionate about producing quality content that is optimized for both search engines and humans.
###