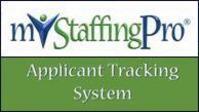 We believe our clients' time is one of their greatest resources
Lima, Ohio (PRWEB) March 4, 2008
myStaffingPro, a leading applicant tracking system, is releasing an integration for Microsoft Dynamics GP at Convergence 2008 Orlando. The integration allows customers to recruit and track applicants with myStaffingPro and seamlessly transfer their applicant and requisition data into Dynamics GP.
"We believe our clients' time is one of their greatest resources," explains Jennifer Brogee, myStaffingPro's product development manager. "The myStaffingPro and Dynamics GP integration allows our clients to focus on their core business, without having to waste time with data entry and data manipulation."
Dynamics GP customers will benefit from myStaffingPro's unmatched online application process, pre-qualifying capabilities, applicant workflow, and reporting. With myStaffingPro's flexible implementation, customers can recruit, qualify, track, and hire applicants according to their hiring process. The result is a more efficient and streamlined hiring process that is synchronized from start to finish.
For more information, please contact Julia Friemering at 800-939-2462.
About myStaffingPro
myStaffingPro® is a web based applicant tracking system with nearly ten years of experience. Clients of myStaffingPro consistently give high ratings for flexible user functionality, unmatched prescreening, superior support, advanced reporting, and virtually "zero" down time. The system is available in three solutions to accommodate clients of any size or hiring process. myStaffingPro is currently delivering the hiring process for over 400 clients and 10 million applications.
This press release was distributed through eMediawire by Human Resources Marketer (HR Marketer: http://www.HRmarketer.com) on behalf of the company listed above.
###