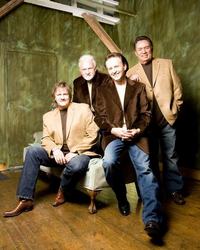 Artist formerly known as The Imperials
Nashville, TN (PRWEB) March 4, 2008
Armond Morales, founding member of the Grammy & Dove Award winning group The Imperials, has issued a public statement in response to the story that broke last week at ChristianityToday.com. The letter can be viewed in it's entirety at http://www.supportthelegacy.com.
Morales, who in 1964 co-founded the Gospel Music Hall of Fame group that performed with Elvis Presley and went on to win 4 Grammy Awards and 13 Dove Awards, is being sued for the Imperials name by a younger group that includes his son, Jason.
In his letter, Morales makes a public apology in hopes of starting the healing process for his family. Morales and the "Artist formerly known as The Imperials" have stopped using the Imperials name, and instead have created a Crown logo which will be featured on all future projects.
For more information, please visit the official website at http://www.supportthelegacy.com.
###