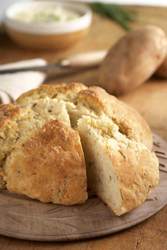 Boxty in the griddle, Boxty in the pan, If you can't make boxty, You'll never get a man!
Denver, CO (PRWEB) March 5, 2008
Potatoes and Ireland are inextricably linked, and few cultures in the world have created so many recipes for serving the sensational spud. There's champ (mashed potatoes with scallions), colcannon (mashed potato cakes featuring cabbage or another leafy green), Dublin coddle (chunks of potatoes sautéed with sausage and bacon), and a potato pancake that's so popular, boxty, it's inspired a favorite childhood nursery rhyme: "Boxty in the griddle, Boxty in the pan, If you can't make boxty, You'll never get a man!"
On this side of the pond, potatoes are no less appreciated. In fact, potatoes are America's favorite vegetable, probably because of their positive nutrition profile and versatility. One medium (5.3 ounce) potato is an excellent source of the antioxidant vitamin C (45% of the Daily Value), and when eaten with skin, a good source of potassium (18% of the Daily Value). Potatoes are fat-, cholesterol-, and sodium-free.
Or, perhaps this love of potatoes in the U.S. is a result of the fact that so many Americans claim Irish blood? According to History.com, there are 34.7 million U.S. residents who claim Irish ancestry. This number is almost 9 times the population of Ireland itself!
COLCANNON CHOWDER
1 and 1/3 pounds (4 medium) russet potatoes, peeled and cut into ¾-inch chunks
14-ounce can nonfat, reduced-sodium chicken broth
1 cup water
Salt
2 tablespoons canola oil
3 cups coarsely chopped green cabbage
¾ cup finely chopped onion
8 ounces smoked chicken or turkey sausage, sliced ¼ inch thick
1 medium carrot, shredded
½ cup 1 percent milk (about)
Pepper, to taste
In 3-quart saucepan, cover potatoes with broth and water; add 1 teaspoon salt. Bring to boiling over high heat; reduce heat, cover and cook until potatoes are tender, 12 to 15 minutes. Set aside.
Meanwhile, heat oil in 10-inch nonstick skillet over medium-high heat; add cabbage and onion. Sauté 10 minutes, tossing occasionally. Add sausage; continue to sauté, about 10 minutes, tossing occasionally, until vegetables and sausage begin to brown. Add carrot; set aside.
With slotted spoon, remove about ¾ cup potato pieces and add to skillet. In electric blender, blend remaining potatoes and liquid until smooth, being careful to hold blender lid down with kitchen towel; return to saucepan. Add contents of skillet; mix in enough milk for consistency desired. Heat to simmering. Season with salt and pepper.
Makes 4 main-dish servings (about 6 cups).
Nutrition information per serving: 357 calories; 15 g protein; 54 g carbohydrate; 10 g fat; 24 mg cholesterol; 587 mg sodium; 6 g fiber.
IRISH POTATO BREAD
(Recipe created by Bruce Weinstein and Mark Scarbrough, authors of
The Ultimate Potato Book)
2 3/4-pound russet potatoes
1 large egg plus 1 large egg white
1/3 cup canola oil, plus additional for greasing the baking sheet
3/4 cup fat-free milk
2 tablespoons minced chives (or the green part of a scallion)
1/2 teaspoon caraway seeds
3 1/4 cups all-purpose flour, plus additional for dusting and kneading
1 1/2 tablespoons baking powder
1 teaspoon salt
Bring 1 inch of water to a boil over high heat in a vegetable steamer or a large saucepan fitted with a portable vegetable steamer. Peel one potato and cut into eighths; steam the pieces until tender when pierced with a fork, about 15 minutes. Rice or mash pieces in a large bowl; set aside to cool for 15 minutes.
Position the rack in the center of the oven; preheat the oven to 375F. Lightly oil a large baking sheet with canola oil dabbed on a paper towel.
Peel the other potato and grate it through the large holes of a box grater. Squeeze off any excess moisture; add to the riced or mashed potatoes.
Stir in the egg, egg white, oil, milk, chives, and caraway seeds until fairly smooth. Add 3 1/4 cups flour, baking powder, and salt; stir with a wooden spoon until the mixture forms a soft but sticky dough.
Lightly flour a clean work surface as well as your cleaned and dried hands. Turn the dough out onto the floured surface and knead for 1 minute, adding flour in 1-tablespoon increments to keep the dough from turning too sticky. Too much flour and the dough turns tough; it should remain a little tacky but workable. Shape into an 8-inch circle, flatten slightly keeping the loaf mounded at its center, and place on the prepared baking sheet. Use a sharp knife to slash an X in the top of the dough, cutting into dough about 1/2 inch.
Bake until golden brown, firm to the touch, and somewhat hollow sounding when tapped, about 55 minutes. Cool 1 hour on a wire rack before slicing and serving.
Makes 1 large loaf (16 slices).
Nutrition information per slice: 183 calories; 5 g fat; 14 mg cholesterol; 298 mg sodium; 30 g carbohydrates; 1 g fiber; 5 g protein; 222 mg potassium; 6 mg vitamin C.
IRISH POTATO CAKES WITH SOUR CREAM SAUCE
Sour Cream Sauce
1/2 cup low-fat sour cream
2 tablespoons chopped green onions (about 2 onions)
1/2 teaspoon minced garlic
1/2 teaspoon lemon juice
Few drops hot pepper sauce
1/2 teaspoon salt
1/4 teaspoon black pepper
Pinch cayenne pepper
Irish Potato Cakes
1 1/4 pounds yellow flesh potatoes, peeled and cut into 1" pieces (about 4 medium potatoes)
3 tablespoons unsalted butter
3 tablespoons milk
1/2 teaspoon minced garlic
1/2 teaspoon salt
1/4 teaspoon black pepper
1/4 cup grated mild Cheddar cheese
1/4 cup sliced green onions (about 4 onions)
1/2 cup panko (Japanese bread crumbs)
4 tablespoons vegetable oil
To make Sour Cream Sauce, in mixing bowl, gently whisk together all sauce ingredients. Refrigerate.
To make Irish Potato Cakes, in medium saucepan cook potatoes in 2 inches boiling water, covered, 12 to 15 minutes or until tender. Drain, then shake potatoes over low heat 1 to 2 minutes to dry thoroughly. With electric hand mixer or potato masher, mash potatoes until smooth. Beat in butter, milk and garlic until blended. Season with salt and pepper. Allow potatoes to cool; mix in cheese and green onions. To form potato cakes, shape 1/2-cup portions of potato mixture into patties; coat on all sides with bread crumbs. Place on wax paper-lined baking sheet and refrigerate at least 1 hour.
In heavy non-stick skillet, heat oil over medium heat. Add potato cakes and cook about 5
minutes, turning once, or until heated through and golden on both sides. Place on serving platter or 6 individual plates; top each potato cake with 1 tablespoon Sour Cream Sauce.
Serves 6.
Nutrition Information Per Serving: 292 calories; 18g fat; 27mg cholesterol; 529mg sodium; 28g carbohydrate; 2g fiber; 6g protein
For additional healthy potato recipes, visit http://www.potatogoodness.com or http://www.potatounderground.com. Happy St. Patrick's Day from America's potato growers!
The United States Potato Board (USPB) was established in 1971 by a group of potato growers to promote the benefits of eating potatoes. Recognized as an innovator in the produce marketing industry, the USPB was one of the first commodity groups to develop and use a nutrition label that was approved by the FDA. Based in Denver, CO, the USPB represents more than 4,000 potato growers and handlers across the country.
# # #