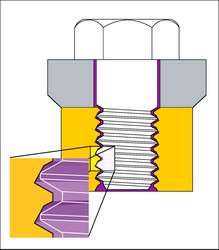 Torrance, CA (PRWEB) March 5, 2008
As lighter, stronger, higher speed, RPM and temperature designs are required for today's most demanding applications, engineers are turning to Spiralock self locking threaded fasteners over traditional secondary thread locking devices such as lock washers, adhesives, or prevailing torque fasteners, which may add weight, cost and complexity over the product life cycle.
To help engineers looking for the right self locking threaded fasteners for the application, there's now free access to an online tool that can speed engineering tasks. The Tap Troubleshooting Guide on the Technology page at http://www.spiralock.com can help engineers quickly address issues such as breaking taps, rough threads, or poor tool life with specific solutions, and help them spot when too much tension is being generated in the tapping process.
Changing to a rigid tool holder may improve tool life, for instance, if a tap runs out in its holder, and can help if a tap is over cutting or under cutting its lead as well. If tap teeth are chipping, verifying that the tap is not cutting into an angled or radiused surface can help.
The Tap Troubleshooting Guide can also help walk engineers through an issue such as when a go-gage does not go, which can be a sign that a tap is wearing down or getting poor tool life.
What makes Spiralock self-locking fasteners unique is the 30-degree wedge ramp at the root of the thread which mates with standard 60-degree male thread fasteners. The wedge ramp allows the bolt to spin freely relative to female threads until clamp load is applied. The crests of the standard male thread form are then drawn tightly against the wedge ramp, eliminating radial clearances and creating a continuous spiral line contact along the entire length of the thread engagement. This continuous line contact spreads the clamp force more evenly over all engaged threads, improving resistance to vibrational loosening, axial-torsional loading, joint fatigue, and temperature extremes.
The innovative self locking threaded fasteners thus compensate for variations in manufacturing tolerance and process due to mass production with its locking thread actually inside the joint. This eliminates the need for secondary thread locking devices or procedures, and can significantly reduce costly warranty claims and potential liability. The self locking fasteners have been used in thousands of manufacturing applications to solve design challenges in a wide range of industries.
Production changeovers to these self locking threaded fasteners are typically quick and seamless, often requiring just an exchange of traditional nuts, wire inserts or simply drilling out and re-tapping existing parts stock that have unreliable standard tapped holes.
Spiralock
Kate Turowska
Madison Tech Center
PO Box 71629
Madison Heights, MI 48071
http://www.spiralock.com
Phone (800) 521-2688
###