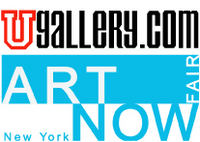 The Ugallery booth is an early peek at the directions talented young New York artists are taking
New York, NY (PRWEB) March 5, 2008
Online art gallery Ugallery.com will participate in the 2008 Art Now Fair as the only Internet gallery in a list of 42 international contemporary galleries, held March 27 through 30 at Hotel 30/30 in New York, as part of the Armory Show weekend.
Ugallery.com will present the artwork of eight artists from the gallery in an exhibition titled Young New York, curated by Lisa Hunter, art lecturer and author of The Intrepid Art Collector: The Beginner's Guide to Finding, Buying, and Appreciating Art on a Budget. The exhibition focuses on artists from New York's top art schools and how their work expresses urban and rural themes.
"The Ugallery booth is an early peek at the directions talented young New York artists are taking," said Hunter. "We are excited to be part of Art Now Fair," said gallery co-founder Alex Farkas, who serves as head curator of the website. "It offers our artists a unique opportunity to show their work in an offline venue. We are more than just an online gallery as we strive to provide young artists with the opportunities needed to succeed in a competitive art world."
In 2007, PC Magazine recognized Ugallery.com as one of the Top 100 Undiscovered Web Sites, and the Wall Street Journal highlighted the online gallery in their guide to finding student art and gaining "access to potential star artists early in their careers."
About Ugallery.com
Ugallery.com, which launched in June 2006, offers affordable, original artwork to buyers interested in emerging talent while providing a platform for young artists to exhibit their art for sale and launch their careers. The site showcases the work of trained emerging artists from universities, colleges, and high schools across the country and gives customers the opportunity to buy art online. The gallery specializes in artists who are pursuing an art degree or have recently graduated with a bachelor of fine arts or master of fine arts degree.
All artwork exhibited by Ugallery.com is juried by a selection committee comprised of art experts including Deborah Mosch, a Savannah College of Art and Design painting professor, Carol Wittner, owner of Sky Fire, a gallery in Jerome, Arizona, and Alfred Quiroz, a painting professor at the University of Arizona.
###