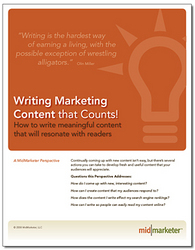 Many mid-sized companies have a hard time trying to generate good content consistently...
Chicago, IL (PRWEB) March 5, 2008
MidMarketer.com released a new report today entitled "Writing Marketing Content that Counts." The report gives readers simple and straightforward tips for writing better marketing content that audiences will respond to.
"Many mid-sized companies have a hard time trying to generate good content consistently..." notes Dan Swartz, Executive Editor of MidMarketer. "This report goes through several actions you can take to develop fresh and useful content that audiences will appreciate."
The free report also contains a new section called the "Two-Week Turnaround" that outlines specific action steps you can take over the next two weeks to create more compelling marketing content.
Perspective reports from MidMarketer are designed to help inform mid-sized companies on effective marketing practices. Says Swartz, "Each of our marketing reports includes real-world, actionable items that a mid-marketer can take and use that very day." MidMarketer publishes two new reports each month covering strategic, creative and tactical topics. MidMarketer also offers marketing templates and tools designed specifically to help mid-sized organizations take action on achieving better results from their marketing.
The new MidMarketer perspective report Writing Marketing Content that Counts can be downloaded for free at http://www.midmarketer.com/perspectives/
About MidMarketer
MidMarketer provides content developed from industry experts that are passionate about marketing for mid-sized organizations. It includes certified resources that are handpicked to help a mid-sized organization, as well as events focused on topics specifically for mid-sized markets. Everything has the mid-marketer in mind, with results focused on insight and direction that enable marketing professionals of mid-sized companies to take action and drive success.
###