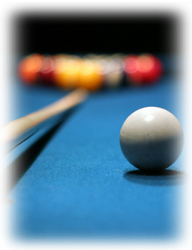 Los Angeles, CA (PRWEB) March 5, 2008
Long thought of as a man's sport, women are stepping up their game in the world of billiards. A popular sport for both genders, females are finally getting the respect they deserve when it comes to the pool table.
Over the last decade, since 1998, billiards participation has risen steadily from 32.3 million players to 36 million in 2005, as reported by the National Sporting Goods Association. With women's participation continuing to grow, and the continued popularity of the Women's Professional Billiard Association (WBPA), women's roles have surpassed the 2005 findings of 37%+ females in the sport.
Today women control a niche corner of the game. The WPBA, originally formed in 1976, is home to some of the greatest female pool players in the world.
Since the 1890's there has always been at least one prominent female professional on the scene, starting with Mary Kaarlus, to today's top leaders Allison Fisher, Ga Young Kim, Xiaoting Pan and Karen Corr who currently top the leader charts for the WBPA.
CalforniaTables.com is happy to announce the upcoming WPBA sponsored San Diego Classic Event at Viejas Casino. The event, taking place April 9 -13, will feature some of those leading ladies.
Additionally, CaliforniaTables.com is also pleased to announce the GenerationPool.com 9-Ball Championships, June 11-12 in Charlotte, North Carolina. Event tickets will be available by phone March 31. The event will include the top male and female professional billiard athletes from around the world, competing for top prizes and money.
The women's event will begin with 64 players June 6-7 at Smokin' Cue in Charlotte. Once narrowed to 32 players, the event will then move to the Charlotte Convention Center. The men's division will consist of the top 32 players from the U.S. Professional Poolplayers Association (UPA) ranking.
The 2008 GenerationPool.com 9-Ball Championships will be held in conjunction with the International Billiard & Home Recreation Expo, June 12-14, promoting innovation in billiards and home entertainment.
Play like a professional from the comfort of your own home with affordable, high quality Pool Tables from CaliforniaTables.com. See what everyone's talking about!
About CaliforniaTables.com:
CaliforniaTables.com is a leading supplier of affordable and exquisite Pool Tables, Pool Table Accessories, Outdoor Pool Tables, Poker Tables and more for over 10 years. CaliforniaTables.com has crafted pool tables for many Hollywood stars, professional athletes, and executives. We are dedicated to providing superior billiard products. Learn more about the finest pool tables on the market at CaliforniaTables.com
###