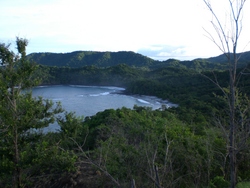 I used to dream when I was little about building a city
Golden, CO (PRWEB) March 5, 2008
The experts at Baseline Costa Rica S.A. and Baseline Corp U.S. have been working on a plan for water delivery and wastewater treatment for a large development in Costa Rica for over a year now.
"I used to dream when I was little about building a city," said John McLain, President of Baseline Corp headquartered in Golden, Colorado. "That is why I got into Civil Engineering and this project is as close to that dream as I could ever imagine." Taking 1100 acres of mountainous jungle terrain against the ocean, planning to serve what amounts to a new city, and making it work from an infrastructure and utility standpoint is quite a challenge. Baseline has been up to the challenge and planning and design continues for the Las Catalinas development just north of the Town of Potrero in the Guanacaste Province.
"The best part about the project is the development team is thinking green and sustainable development to the N-th degree," McLain said. "They teamed up with us because of our work with re-use and reclaimed wastewater design in Colorado - and it helps that we have a local presence and are doing work in the country." He said this was their second reclaimed wastewater project in the area and that their Costa Rica branch office has been in business for 2.5 years. Their work is equally split between local industry and U.S. land developers. Their specialty is in planning, design and construction of water and wastewater treatment plants, but they handle project management too.
Cooper Best is the U.S. Project Manager assigned to oversee planning and design of the water and wastewater infrastructure for Las Catalinas. "Every step of the way we have focused on sustainability," said Best. His Master Plan calls for ultrafiltration for water treatment and an MBR or Membrane BioReactor for wastewater treatment. "We looked at several options for wastewater treatment, but the limited space for a plant and re-use quality effluent moved us toward an MBR. You also have variations in flow during a high and low season for the development and ever tightening environmental regulations that affected selection of alternatives. Phasing and expansion is also an issue."
Best said their next step, along with Phase I design, is creation of a water conservation plan. A water conservation plan will be an outline for water conservation efforts throughout the development. "Benefits of a water conservation plan are realized not only through reduced water consumption, but reduced energy usage and reaching a more sustainable development."
As for the development approval process, they say it is very convoluted and difficult. ''But we have the right people in place at the local level to push things along." He said it was interesting how many different agencies are involved. Environmental viability goes through MinAE and Setena. Water and wastewater goes through AyA and the Ministerio de Salud. Road approval through MOPT and the local Municipality. Final Construction plans go through CFIA. "There is an endless amount of paper pushing and we have run into some difficulty when a newer technology crosses their desk."
Baseline Costa Rica has found itself on many occasions meeting with the national agencies, such as the Ministerio de Salud, to educate them on some of the newer treatment technologies available. "The people are great and receptive to the technology." McLain said that last year the sole reason that Rotating Biological Contactors, BioWheel technology for example, can be approved in the country is because of the leg work his local team did.
Speaking of new technology, the country currently does not have a way to permit a desalination water treatment plant, but they are working on it. "You wouldn't guess it, but the Guanacaste region is lacking sufficient water supplies. Desalination is coming to Costa Rica. With all the growth, it is inevitable," McLain said.
About Baseline Corp: Headquartered in Golden, Colorado, Baseline Corp (http://www.baselinecorp.com) is a regional leader in Civil Engineering for private and public clients. The firm's work is concentrated in traditional civil engineering and land development services, environmental and water resources, design of water and wastewater treatment facilities, energy industry services, and land surveying. Offices are located throughout the Rocky Mountain Western United States and Costa Rica.
###