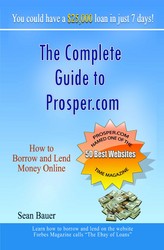 The Complete Guide to Prosper.com
New York, NY (PRWEB) March 5, 2008
Millions of consumer's have been reeling from revolving credit card debt at huge interest rates, payday loans, and other sources of debt, which hammer the consumer with interest and discourage paying the debt off. Enter Prosper.com to revolutionize unsecured lending the way eBay has revolutionized retailing. In business for just two years but already topping 600,000 members and $121 million in loans, this company is backed and run by the finest leaders in the Internet and finance industry.
"The Complete Guide to Prosper.com" is the first book on Prosper.com to provide a complete look at how to borrow money, lend money, or run a group on the website. It is simple to read and use, with screenshots and tips along the way.
At the current time, the greatest challenge a would-be borrower would face when going to Prosper.com is getting their loan funded. While $121 million has been lent out, the majority of loan listings close without being funded. This means the borrower does not receive the loan because there were not enough people who bid money to lend to that person. "The Complete Guide to Prosper.com" gives great advice based on research and experience on how a borrower can create a listing that will get funded. The Author has personally borrowed over $25,000 using Prosper.com.
As an investor wanting to explore this new option, "The Complete Guide to Prosper.com" will help guide them through how to use the tools and help them to understand how to review what is happening when they lend money, how to determine interest and defaults to expect, and where to find more information as they grow their investments.
Prosper.com is changing the face of lending every day and will be a financial force as people discover they can cut out the middleman and make more money on their savings or pay less in interest. Potential borrowers and investors need good, timely information that will walk them through understanding this fantastic, and sometimes complex, process. "The Complete Guide to Prosper.com" is a great reference tool every person who uses credit or saves money should have in their library.
To celebrate the launch of this valuable book, Sean Bauer has arranged for one day only a special bonus package that buyers of "The Complete Guide to Prosper.com" will receive if they purchase the book on Amazon.com today, Thursday, March 6th, 2008. This includes over $600 worth of products, advice, and tools from leading financial and business experts. Visit http://www.prosperbook.com/specialoffer.html right now and take readers financial fate into their own hands.
A portion of all book proceeds will be donated to SOS Children's Villages.
About Sean Bauer:
Sean Bauer is a borrower, lender, and group leader on Prosper.com. He is also a member of the American Finance Association and former winner of the Finance & Credit Competition in Ohio. Sean has personally borrowed over $25,000 using the Prosper.com marketplace. Readers can duplicate Sean's success too by following the knowledgeable advice contained in "The Complete Guide to Prosper.com".
Contact information:
Herbert & Sons Publishing
#55527
PO Box 4668
New York, NY
10163-4668
Info @ prosperbook.com
614-370-0033
###