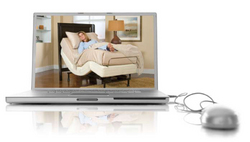 Konowa, OK (PRWEB) March 5, 2008
Owning a piece of luxury - a state-of-the-art, electric adjustable bed - has just become more affordable with the release of the new BetterRest® bed, priced very comfortably at US$2295 for a Queen-sized mattress and base.
Benefits of Adjustable Beds:

Unsurpassed sleeping comfort
May ease swollen legs and assist with circulation
Incline angle under the head may assist with snoring, asthma and respiratory ailments
May help alleviate pain and discomfort of various muscular-skeletal conditions
'Zero gravity' relieves pressure on spine
Can be adjusted to the unique needs of the user
The BetterRest® Adjustable Bed is designed by one of the world leaders in adjustable bed technology. Manufactured in Germany to stringent European standards, the bed is backed-up by an unsurpassed 30 year warranty, and offers the ultimate in sleeping comfort and ease of use.
With its wall-hugging feature, the bed keeps sleepers in the same relative position to their night stand, even when the bed is raised to its upright sitting position. BetterRest® delivers all the benefits of a state-of-the-art electric adjustable bed, without the prohibitive price tag.
Designed with more memory functions than other adjustable beds, the superior control circuits can synchronize the head and foot sections to raise or lower simultaneously with the push of one button. The bed adjusts to a 'zero-gravity' position that relaxes the spine and body through neutral positioning and promotes a feeling of weightlessness, for ultimate comfort.
With wireless remote control, this ingenious bed design is easy to use. The head and foot massage motors are thoughtfully designed to ensure quieter operation, offering a gentle and relaxing experience.
The mattress, made with open cell, visco elastic 5lb memory foam, is temperature sensitive and molds to the body, for ultimate comfort. Both mattress and base meet FR 1633 fire regulations.
The BetterRest® Memory Foam Mattress & Electric Adjustable Foundation is available now through http://www.badbackstore.com.
BetterRest® Features and Benefits at a Glance

Wall hugging design - Keeps the user adjacent to their bed side table
Head & foot massage - Relaxing & gentle variable massage speeds
Wireless remote control - No unsightly wires
Zero-gravity setting - The ultimate relaxing position
Foot and headboard brackets - Will fit any bed size
BetterRest® Adjustable Bed are available to trial to media.
Media Contact, Trial Request & Further Information:
Michelle Ranells
Bad Back Store
P: 866-457-2225
About badbackstore.com:
Their company directors have over 50 years combined manufacturing and marketing experience in the health industry. Superbly supported by an energetic team of customer service, health professionals, technical, marketing and logistics specialists, they aim to make http://www.badbackstore.com number one for pain relief products and customer satisfaction.
###