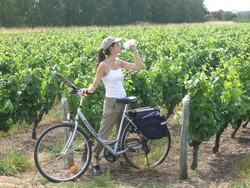 one-stop resource for bike tours in Europe
Chattanooga, TN (PRWEB) March 6, 2008
As the dollar continues to falter, European bicycle tour companies still offer excellent values, with many one-week tours under $1,000. Travelers in North America can book the tours through U.S.-based BikeToursDirect, which represents 38 European companies and offers nearly 200 tours on its website, http://www.biketoursdirect.com.
Self-guided tours start at less than $800 (all prices listed are per person, double occupancy, based on early March 2008 exchange rates) and include lodging in 3-star hotels, daily breakfasts, luggage transfers, bicycle rentals, detailed route information and service hotline. For example, among self-guided programs, a one-week tour from Salzburg to Vienna, Austria, costs $740, a six-night bike-and-barge tour along Germany's Mosel River costs $770, a six-night tour in Italy from Bolzano to Verona costs $895, and a one-week tour in France's Loire Valley costs $930.
Guided tours--most adding ride-along guides, support vans and dinners--start at just over $800. A one-week guided tour exploring the region around Krakow, Poland, costs $825, a one-week tour along Germany's Rhine River costs $1040, a tour across Slovenia costs $1120, and a tour in France's Provence region costs $1240.
Many tours are appropriate for families and novice cyclists.
BikeToursDirect bills its website as a "one-stop resource for bike tours in Europe" and helps cycle tourists find tours based on preferences like destination, month, duration, cost and level of difficulty. Clients book the tours and make all payments through BikeToursDirect, usually at the same prices charged by the European companies. The site also offers helpful advice and travel tips such as how to choose a tour and what clothes to bring.
The European companies are able to keep their tour prices down due to the low cost of doing business in their home countries, to a large volume of European clients and to the frequency of their tours--many with weekly and even daily departures. This gives the tour companies many economies of scale as well as the ability to negotiate low rates at hotels along the tour routes.
BikeToursDirect's primary offices are at 1638 Berkley Circle, Chattanooga, Tenn. 37405. Telephone: 1-877-462-2423.
###