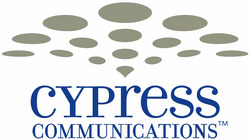 The VON Magazine Innovator Awards recognize the Internet Communications industry's best and brightest companies, and we're pleased to include Cypress Communications as an inaugural winner
Norwood, Massachusetts and Atlanta, Georgia (Vocus) March 5, 2008
Cypress Communications today announced that it has received the 2008 VON Magazine Innovator Award in recognition of its cutting-edge hosted VoIP and unified communications solution, C4 IP. The VON Magazine Innovator Award is the foremost listing of companies that represent the future of the Internet Communications industry.
For over 20 years, Cypress Communications has remained at the forefront of innovation, continually expanding its hosted communication offerings. As a comprehensive solution that integrates traditional PBX functionality with advanced IP communications features, C4 IP has made its mark in the hosted VoIP marketplace. C4 IP even helped to define a new category called Communications as a Service (CaaS), which has been hailed by industry experts as the most innovative of the hosted VoIP delivery models.
With the Cypress CaaS solution, C4 IP, there's no upfront investment in expensive hardware, no worries of technological obsolescence and no need to devote internal resources to maintaining the communications infrastructure on the part of the end user. And, C4 IP is delivered through a fully redundant national VoIP network, which has been independently recognized for its unique ability to provide uninterrupted voice services in the face of any disaster—a level of business continuity unmatched by other hosted VoIP solutions designed for small-to-medium enterprises.
"The VON Magazine Innovator Awards recognize the Internet Communications industry's best and brightest companies, and we're pleased to include Cypress Communications as an inaugural winner," said Bill Sell, Publisher, VON Media Group. "With its comprehensive feature set and robust network architecture, Cypress stood out in the large field of nominated companies, and the award selection committee unanimously agreed that Cypress Communications represents the level of innovation and technological leadership deserving of a VON Magazine Award."
"When we first launched C4 IP, we knew that we were on to something, but we weren't sure if the market was ready for it," said Frank Grillo, executive vice president of marketing at Cypress Communications. "However, the overwhelmingly positive responses of the market and industry serve as great validation of both the innovative nature of our solution and the incredible potential of the Communications as a Service (CaaS) model. This latest recognition further solidifies Cypress' unique position in the hosted VoIP arena, and we are honored to be selected as a recipient of the prestigious VON Innovators Award."
C4 IP is an enterprise-class, hosted VoIP solution that enables multi-location companies to communicate seamlessly throughout the enterprise. Complete with voice and data services, handsets, multimedia collaboration tools, unified messaging and advanced PBX functionality, C4 IP stands at the forefront of the hosted VoIP industry. Scalable and adaptable, C4 IP is a dynamic hosted VoIP and unified communications solution that streamlines and improves collaboration, resulting in a more productive and efficient enterprise. With C4 IP, users can connect, communicate, collaborate and continue with its intuitive, productivity-enhancing features.
The VON Magazine Innovators award ceremony will be held on March 18, 2008 at 6:00 PM in San Jose, California. A list of award winners will also be published in the March/April print edition of VON Magazine.
About the VON Magazine Innovator Awards
Building on the legacy of the Pulver 100, the VON Innovator Awards have evolved to recognize all companies—start-ups to publicly-traded companies—which represent the future of Internet Communications. Each participating company completed a lengthy and comprehensive nomination process, and the recipients have been selected from a committee made up of VON Magazine editors, columnists, and contributors, as well as the leading content producer for the VON.x conferences. The Inaugural VON Magazine Innovator Award winners will be honored at Spring VON.x at 6:00 PM Pacific time on March 18th in the VON Theatre in San Jose. For additional information, please visit: http://vonmag.com/innovators/.
About Cypress Communications
Boasting a 20-year legacy and more than 6,500 customers coast-to-coast, Cypress provides Communications as a Service (CaaS) to small- and mid-sized enterprises. CaaS goes beyond traditional hosted VoIP offerings by delivering a fully managed unified communications solution. Comprehensive and flexible, the CaaS solution from Cypress includes integrated voice and data access, desktop phones, soft phones, local and long-distance voice services, voicemail, advanced collaboration tools and remote office functionality. From their computers, users can take advantage of productivity-enhancing applications such as real-time presence, desktop video, unified messaging, chat, file sharing, and Outlook integration. As a Deloitte Fast 50 and Fast 500 award recipient, Cypress Communications is also recognized as one of the fastest growing telecommunication companies in North America. Cypress is headquartered in Atlanta. The company's Web address is http://www.cypresscom.net.
© 2006-2008 Cypress Communications, Inc. The Cypress Communications logo is a service mark of Cypress Communications, Inc. C4 is a service mark of Cypress Communications, Inc. All other marks mentioned herein are copyrights of their respective owners.
Todd Keefe
Pulvermedia/VON Magazine
617-262-1968 x 100
todd @ pulvermedia.com
Heather Whitt
Cypress Communications
404-975-4128
hwhitt @ cypresscom.net
###