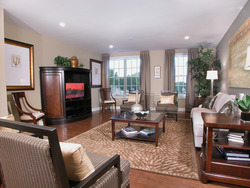 The multi-design concept also creates an attractive streetscape that promotes a traditional neighborhood setting and embraces the architectural integrity of the surrounding neighborhood.
Livingston, NJ (PRWEB) March 6, 2008
A new program offering homebuyers a "Rent-To-Own" option has been introduced at Livingston Town Center, the upscale community of single-family homes, townhomes and condominium-style residences located in the heart of Essex County, NJ.
The new program allows prospective buyers to enjoy all that Livingston Town Center has to offer before making the commitment to purchasing a home, according to Roseland Property Company, which is developing the high-end, mixed-use community in partnership with Eastman Management Company and Jacobs Enterprises, Inc.
At any time during the one-year Lease Agreement, residents can sign a Purchaser's Agreement and receive a credit against the total base purchase price. The credit amount would be based on when the homebuyer exercised the option to buy.
"It's a unique opportunity for people to experience the sophisticated and service-oriented lifestyle that defines Livingston Town Center before actually making the decision to purchasing a home here," notes David Schoner, Vice President of Coldwell Banker New Homes and Condominiums.
"Buyers can move in immediately and feel secure in knowing that a percentage of their monthly expenditure will be credited back to them should they decide to move forward with a purchase. We're confident that once someone experiences firsthand the unique lifestyle at Livingston Town Center, the decision to buy here will be a no brainer."
The "Rent to Own" program is available on Livingston Town Center's elegant multi-level townhomes and condominium-style homes which are located in a mid-rise building and have direct access to the community's Center Club amenities. The building is set directly on the main boulevard and includes seven townhomes and 24 luxury apartment homes in a variety of designs from 1,500 to more than 3,000 square feet of living space. The townhomes are accessible from private entry doors at street level, or from the building's elegant marble lobby. All of the condominium homes have two parking spaces in an attached secured garage.
The community's sophisticated collection of homes also includes additional brownstone-style townhomes and elegant single-family homes. Prices at the community currently begin at $699,900.The expansive townhomes offer 3,200 to 3,400 square feet of luxury living space with three bedrooms and 2 -3 ½ baths. Outfitted with the finest finishes and appointments, these stylish residences feature dramatic multi-level designs with generous floorplans ideal for entertaining. Each townhome comes equipped with its own private elevator, as well as a private two-car garage.
The charming offering of 17 single-family homes surrounding the neighborhood offer an average of approximately 3,000 square feet of luxury living space and are unique to each homesite, with a choice of traditional Federal, Victorian or Queen Ann exteriors.
"We offer three distinctive home styles to provide buyers with the flexibility to choose the one that best meets their needs and desires," Mr. Schoner points out. "The multi-design concept also creates an attractive streetscape that promotes a traditional neighborhood setting and embraces the architectural integrity of the surrounding neighborhood."
Livingston Town Center homeowners also enjoy a number of exclusive on-site, resort-like amenities including concierge service, a state-of-the-art fitness facility, a billiards room, a glass-enclosed conservatory swimming pool, and more. In addition, the homes are linked through pedestrian walkways to the community's Retail Village, 65,000 square feet of upscale boutique shops, restaurants and services.
For more information on the residences at Livingston Town Center, call Joan Stamile at (866) 579-0602, visit the website at http://www.LTCNewHomes.com, or visit the New Sales Center located at 45 Carillon Circle, open Thursday through Monday from 11 a.m. to 5 p.m. (closed on Tuesdays and Wednesdays).
From New York: Take the New Jersey Tpke. South to exit 15 W. Follow Route 280 West to Livingston/527 South exit. Proceed approximately 1 mile to Sales Center on left. From Route 78 Eastbound: Follow the Millburn Route 24 exit. Proceed on 24 West to exit for JFK Parkway. Continue approximately 5.5 miles (JFK will become Livingston Avenue) past Mt. Pleasant Avenue to Sales Center on right.
From 78 Westbound: Follow signs to 24 West. Stay in local lanes to exit for JFK Parkway (same as above).
Contact:
George Cahn
CAHN Communications
201-876-3100
###