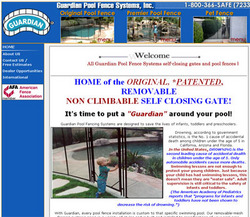 Our goal is to provide our customers with products that make their pool areas safe
Van Nuys, CA (PRWEB) March 6, 2008
A swimming pool may mean refreshing relief from the heat but for a pool owner, safety must be the number one priority. Meeting and exceeding this need for safety, Guardian Pool Fence Systems continues to develop new products and services to enhance the experience of owning a pool, making it safe for owners and their guests. In an effort to continue to promote pool safety, Guardian Pool Fence Systems announces their newest U.S. patent # 7,334,957.
"Our goal is to provide our customers with products that make their pool areas safe," explains Guardian Pool Fence Systems' President, Steve Sadinsky. "By adding patented products to our offerings, our customers know they are receiving high quality products and service from a company that cares about their well-being."
The second United States Patent for Guardian Pool Fence Systems, this patent represents the Locking Deck Sleeve, an invention that is specifically designed to improve the safety aspects of Guardian Pool Fence Systems' pool safety fence by locking the fence pole into the pool deck. This mechanism will prevent children and adults from pulling the poles out of the deck sleeves, which can increase the risk of unsafe conditions around a pool. To remove the fence with this Locking Deck Sleeve, an adult will have to open Guardian's original patented, self-closing gate with a key. The Locking Deck Sleeve can only be released using a Phillips head screwdriver from the inside of the pool fence. Some city and county building departments have accepted this patented feature to meet their building codes, due to the fact that it requires a tool to remove the fence.
Having invented the first working removable self-closing gate, Guardian Pool Fence Systems' pool safety fence is designed to inhibit children from climbing the gate and fence. Offering two different types of removable mesh pool fencing, customers may choose from over 80 different models of pool fencing including two styles, three heights and a variety of color combinations. Their patented self-closing gate is available for each model of removable pool fence produced.
For more information about Guardian Pool Fence Systems and their removable swimming pool fence solutions, please visit GuardianPoolFence.com.
About Guardian Pool Fence Systems, Inc.:
Owned and operated by Steve Sadinsky, Guardian Pool Fence Systems designs custom removable pool safety fences featuring the ORIGINAL patented self closing, self latching, and key locking gate for optimum safety. Offering a removable pool fence that cannot be climbed while leaving plenty of backyard room, Guardian Pool Fence Systems are available in a variety of styles and are built to customer specifications.
###