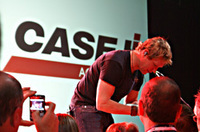 I'm here to tell you that as Case IH, we will be that again!
Racine, WI (PRWEB) March 13, 2008
A surprise performance by country music star Craig Morgan at the annual Case IH dealer meeting left attendees yelling for more. Morgan obliged the excited crowd with an encore performance of his most recent hit song, "International Harvester."
A Top 10 country hit, "International Harvester" has spent 24 straight weeks on the Billboard Hot Country Chart.
"International Harvester" also is one of the Top 10 video downloads on CMT.com. "There were a couple of songs about another tractor a few years back, but downloads of this song have more than doubled those combined," said Morgan.
According to Billboard.com, "International Harvester" continues to have great airplay and sales gains. Morgan's other hit songs include "Almost Home," "RedneckYacht Club" and "That's What I Love About Sunday."
Morgan's unexpected performance at the meeting thrilled Case IH dealers, many of whom were International Harvester dealers before the Case and IH merger. "We invited Craig Morgan to sing 'International Harvester' to honor the 'IH' in our name," said Randy Baker, president, Case IH Agricultural Equipment Inc. "I don't think anyone can argue that International Harvester was at one time the No. 1 equipment company - best equipment, best people, best dealers," Baker added. "I'm here to tell you that as Case IH, we will be that again!"
Also addressing the dealer audience was Jim Walker, vice president, Case IH North American Agricultural Business. "I want you to remember that you were here on this historic night - the night International Harvester was reborn! "At Case IH, we revere our International Harvester roots," Walker explained, "and we will continue to build upon the tremendous agricultural heritage created by International Harvester. It will remain an integral part of our company logo -- and the soul of Case IH."
Case IH is a global leader in agricultural equipment, committed to collaborating with its customers to develop the most powerful, productive, reliable equipment - for those who demand more. With headquarters in the United States, Case IH has a network of dealers and distributors that operates in over 160 countries. Case IH provides agricultural equipment systems, flexible financial service offerings and parts and service support for professional farmers and commercial operators through a dedicated network of professional dealers and distributors. Productivity enhancing products include tractors; combines and harvesters; hay and forage equipment; tillage tools; planting and seeding systems; sprayers and applicators; and site-specific farming tools.
For more information on Case IH visit us on the World Wide Web at http://www.caseih.com.
###