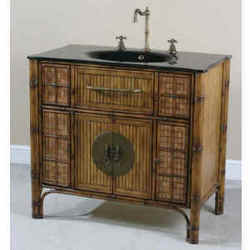 San Diego, CA (PRWEB) March 6, 2008
Premiere Vanities is happy to announce the release of their new bamboo bathroom vanity, available as a single sink vanity. Bamboo is an unusual and more artistic material to make a vanity out of, and as vanity selections continue to broaden, the consumer demand for one-of-a-kind or unique vanities is increasing.
This bathroom vanity is constructed using bamboo, glass and brass. It has a tempered glass top with an antique finish brass faucet, giving it a different and modern appearance. The countertop is sealed to prevent watermarks or common stains. The bamboo base is made of kiln-dried bamboo, properly dried to prevent warping and cracking, as well as a sealed finish to prevent peeling and fading in elevated humidity levels. The four doors and two drawers allow for plenty of concealed storage.
This single bathroom vanity made of bamboo and glass is one of many unique vanities available on the Premiere Vanities website. Premiere Vanities is proud to have this whimsical and unconventional conversation piece of bathroom furniture in their wide collection of bathroom vanities. As the demand for bathroom vanities made of unique materials increases, the selection available by vanity specialists should commensurately increase.
About Premiere Vanities:
Premiere Vanities is the leading online source and retail site for bathroom vanities, with a passion for making every bathroom a stylishly unique and beautiful room in the home. They offer a wide selection of single bathroom vanities, double bathroom vanities, vanity sets, and linen cabinets. With vanities in antique, wood, traditional, and contemporary interior design styles, we are confident that our customers can find bathroom vanities that will be chic and beautiful additions to their homes. Premiere Vanities offers quality bathroom vanities and furniture at low prices, with free shipping in the continental U.S., and a great customer service experience.
###