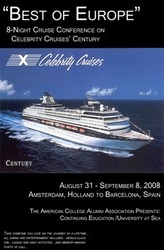 This cruise is a once in a lifetime opportunity
Bryn Mawr, PA (PRWEB) March 6, 2008
With ports of call in seven of Europe's most majestic locations, The American College's 2008 Continuing Education Study Cruise promises a meaningful learning experience for any financial advisor who intends to remain current in the complicated arena of wealth management.
Professor Ted Kurlowicz's course, "Estate Planning in an Era of Reform" will be an educational highlight of the event. Author of numerous books and celebrated media interview subject, Ted Kurlowicz, the Charles E. Drimal Professor of Estate Planning at The American College, will provide an in-depth presentation on tax reform and regulatory changes dramatically impacting the world of estate planning. The combination of cutting-edge insight and case studies contained in Kurlowicz's presentation will provide attendees with real world financial solutions that can be applied directly to client interactions.
"This cruise is a once in a lifetime opportunity," said Russell Figueira, MSM, Vice President of Alumni Relations and Human Capital at The American College. "Along with great networking and world-class education, this cruise will provide attendees with the chance to sample the rich cultural diversity found in exotic ports of call including Barcelona, Tangier, Lisbon, and Amsterdam. Individuals looking for a sophisticated and intellectually stimulating experience that combines education and travel should sign up immediately."
In addition to Professor Kurlowicz, attendees will have the opportunity to hear a dynamic presentation by Larry Barton, Ph.D., President and CEO of The American College and holder of the O. Alfred Granum Chair in Management. Highlights from his just published book, Crisis Leadership Now, (McGraw-Hill) will be included in his presentation, "Crisis Management for the Business Owner." Barton's book heads into its second printing in March just six weeks after its release.
Regardless of the size of the business enterprise, professionals attending this CE session will learn valuable skills important in handling disasters that can profoundly impact client service. Anyone interested in protecting the brand and reputation of their organization will find this presentation valuable.
Applications for continuing education credit for these two courses have been made in all 50 states with a combined total of 12 CE credits pending approval. Books, course materials and a special Alumni Association package are all included.
The Alumni Cruise includes three private cocktail receptions for College participants. A special Owner's Suite cocktail party will be hosted by Albert "Bud" Schiff, CLU®, Chief Executive Officer, NYLEX Benefits and his wife Jayne N. Schiff, CLU®, ChFC®, Director, Executive Benefits, The NIA Group.
James W. Goodacre, RHU®, REBC®, Carmel, California has attended American College sponsored learning cruises and noted, "Networking and meeting with other leading advisors at sea is one of the special benefits I have enjoyed by participating in these programs over the years. By directly learning how others are meeting client needs, and participating in group learning sessions, there is a double win - the benefit of a superb sea experience and creating networks that have lasting value."
The "Best of Europe" eight night cruise and conference will take place aboard the revitalized ocean liner Celebrity Century from August 31 - September 8, 2008. A variety of different cabins, staterooms and suites are available at prices ranging from $995 to $2,505 per person. A deposit of $500 per person is required as part of the registration process.
Individuals interested in registering for The American College's 2008 Continuing Education Study Cruise featuring the "Best of Europe" should visit The American College Alumni Association website at http://www.TheAmericanCollege.OnlineCommunity.com
Additional information is also available toll free through Continuing Education, Inc. at 800-422-0711 or via e-mail at Alumni @ TheAmericanCollege.edu.
The American College is dedicated to leadership in innovative training and development that helps financial services companies and their employees succeed. As a non-profit educational institution holding the highest level of academic accreditation, The College has served as a valued business partner to banks, brokerage firms, insurance companies and others for 80 years. The American College's faculty represents some of the financial services industry's foremost thought leaders. For more information, visit TheAmericanCollege.edu
###