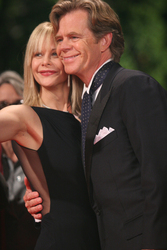 Our World Cinema and Documentary sections, especially, show an increasing amount of artistic depth and filmmaking talent. Fans will find plenty to rejoice in this year.
Nashville, TN (PRWEB) March 7, 2008
Steven Schachter's THE DEAL, starring William H. Macy, Meg Ryan and LL Cool J, will open the 39th Nashville Film Festival (NaFF) on April 17, 2008 at Regal Green Hills Cinema. Running through April 24, the Festival also will include the presentation of a Lifetime Achievement Award to legendary actress Patricia Neal by singer-songwriter Lyle Lovett honoring Neal's film and humanitarian work. The complete presentation will include a screening of the classic HUD and a Q&A with Neal.
THE WRECKING CREW, a documentary directed by Denny Tedesco about the famed group of session musicians who backed nearly all the hits made in Los Angeles in the 1960s, will close the festival on April 24 with members of the Crew in attendance followed by a closing night party and concert with musical guests.
Last year, more than 20,000 people attended the Nashville Film Festival, a staggering 26% increase in attendance from 2006. This year, films once again will be screened in four state-of-the-art theaters at the Regal Green Hills Cinemas. Events connected to the festival, including the Opening Night party atop BMI's Nashville headquarters, will spread out around the city, culminating with the NaFF JaMM Closing Night party at the Cannery Ballroom.
"I think with this festival we've truly hit on a combination that excites filmmakers, filmgoers and the entire Middle Tennessee community," says Sallie Mayne, NaFF Executive Director. "The interest in this year's festival started when 2007's ended, and we're all ready to see the potential of this powerful and incredibly fun event realized."
At release time, other feature film highlights in the World Cinema portion of the festival include ALEXANDRA (Alexandr Sokurov, Russia), THE ART OF NEGATIVE THINKING (B. Breien, Norway), THE COLORS OF MEMORY (Amir Shahab Rezavian, Germany/Iran/Canada), COOK COUNTY (David Pomes , USA), CROSSING THE DUST (Shawkat Amin Korki, Iraqi Kurdistan), IN THE CITY OF SYLVIA (Jose Guerin, France/Spain), MAKE-OUT WITH VIOLENCE (The Deagol Borthers, USA), SEARCHERS 2.0 (Alex Cox, U.S.A), SEVERED WAYS: THE NORSE DISCOVERY OF AMERICA (Tony Stone, USA), WERE THE WORLD MINE (Tom Gustafson, USA) and YOU, THE LIVING (Roy Andersson, Sweden/Germany).
"I'm extremely pleased with the strong mix of films by world-class masters, established USA indie filmmakers and new works by up-and-coming filmmakers from around the world," says Brian Gordon, NaFF Artistic Director. "Our World Cinema and Documentary sections, especially, show an increasing amount of artistic depth and filmmaking talent. Fans will find plenty to rejoice in this year."
Documentary highlights include AMERICAN TEEN (Nanette Burstein, USA), THE BLACK LIST (Timothy Greenfield-Sanders, USA), BUNNYLAND (Brett Hanover, USA, World Premiere), CORNERED (Eric Drath, USA, World Premiere), ENCOUNTERS AT THE END OF THE WORLD (Werner Herzog, USA), ONE BAD CAT: THE REVERED ALBERT WAGNER (Thomas G. Miller , USA), JUMP! (Helen Hood Scheer, USA), PROPHETS RISING (Loree Gold, Jane Pittman, USA, World Premiere), THE PUSSYCAT PREACHER (Bill Day , USA), SHAKE THE DEVIL OFF (Peter Entell , Switzerland), SOZDAR, SHE WHO LIVES PROMISE (Annegriet Wietsma, Netherlands, US Premiere) and UP THE YANGTZE (Yung Chang, Canada).
Films competing for the Reel Current Award, given by former Vice President and Nobel Peace Prize winner Al Gore to a documentary film screening at NaFF that provides extraordinary insight into a contemporary global issue, are AT THE DEATH HOUSE DOOR (Steve James, Peter Gilbert, USA), FLOW: FOR THE LOVE OF WATER (Irina Salina, USA); MOUNTAIN TOP REMOVAL (Michael O'Connell , USA) and TAKING ROOT: THE VISION OF WANGARI MAATHAI (Lisa Merton, USA).
Other big competitions this year include the Nashville Film Festival/Regal Cinemas Dreammaker Award, given to a feature film without U.S. distribution; the Rosetta Miller-Perry Award, given to the best film in the Nashville Film Festival by a Black filmmaker; the Lonely Seal Award, which provides international representation to the winning film; and the NPT Human Spirit Award, given by Nashville Public Television to a film that best explores and captures the human spirit.
In addition to THE WRECKING CREW, highlights in NaFF's signature Music Films in Music City section include ANITA O'DAY - THE LIFE OF A JAZZ SINGER (Robbie Cavolina, Ian McCrudden, USA ); A NASHVILLE STATE OF MIND (John-Martin Vogel, Eric LaRocca Mainade, USA), OF ALL THE THINGS (Jody Lambert, USA), THE SWEET LADY WITH THE NASTY VOICE (Joanne Fish, Vincent Kralyevich, USA), THROW DOWN YOUR HEART (Sascha Paladino, USA) and TALKING GUITARS (Claire Pijman, Netherlands).
Distinguished panelists, jurors and guests this year include music supervisors Evyen Klean and Tracy McNight; film critics David D'Arcy (Screen International), Scott Foundas (LA Weekly) and Joe Leydon (Variety); actors/filmmakers Vincent D'Onofrio and Kimberly Williams-Paisley; screenwriter Callie Khoury; William Morris Motion Picture Independent agent Phil Alberstat; and Variety Executive Editor Steven Gaydos.
A complete list of confirmed films, including the short-film programs, events, panels, workshops and visiting filmmakers will be posted to nashvillefilmfestival.org in the coming weeks.
PURCHASING TICKETS
Tickets go on sale online at http://nashvillefilmfestival.org in early April, including the ALL-FESTIVAL LAMINATE (good for all films, panels,workshops, opening and closing galas and the awards reception), ten-packs, tickets to individual films, NaFF JaMM, workshops and panels. Popular films sell out. To avoid disappointment, we strongly suggest you buy your tickets in advance online at http://nashvillefilmfestival.org, or at the NaFF Box Office in the lower lobby, onsite at the Regal Green Hills beginning at 1 p.m. on festival days.
MEDIA CREDENTIALS
Members of the media interested in attending the Festival and applying for media credentials should fill out the media credentials request form available in the press room at nashvillefilmfestival.org.
ABOUT THE NASHVILLE FILM FESTIVAL
Nashville Film Festival is a non-profit 501(c)(3) corporation and receives funding from The H. Franklin Brooks Philanthropic Fund, William N. Rollins Fund for the Arts of The Community Foundation of Middle Tennessee, The Frist Foundation, The Memorial Foundation, Nashville Metro Arts Commission, National Endowment for the Arts, Ragsdale Family Foundation, Target Stores, Tennessee Arts Commission, and its generous patrons and sponsors.
# # #