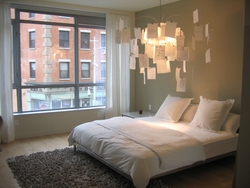 People want space, light, storage, fantastic new kitchens and baths, fun nightlife and shopping and proximity to New York. We can deliver all that. New York renters are finding that they don't have to settle or compromise on amenities – they just have to look north!
Yonkers, NY (PRWEB) March 6, 2008
Less than 30 days after opening its doors, virtually all the studio apartments and many of the one-bedrooms at 66main on the Yonkers waterfront (an area recently dubbed "SoYo") have been rented.
Many of the units boast Hudson River views, and the designer two-bedroom model (picture attached) has all the makings of a downtown loft – from the state-of-the-art iPod dock to the floor-to-ceiling windows.
As apartment rents climb in previously "undiscovered" areas like Astoria, Jersey City, and industrial Brooklyn, renters are heading north – 25 minutes north on Metro-North, to be exact. A trip to midtown can take les time than a subway ride from an outer borough of New York City. Renters moving to the Yonkers Waterfront have come from as far as South Carolina and visitors to the website (http://www.66main.com) from Europe and South America. Young professionals, empty-nesters, and small business owners view these unique apartments as a perfect space to live, work, or both.
According to Kenneth Dearden of MetroPartners, the development company "People want space, light, storage, fantastic new kitchens and baths, fun nightlife and shopping and proximity to New York. We can deliver all that. New York renters are finding that they don't have to settle or compromise on amenities – they just have to look north!"
Metropartners is a real estate development and property management company based in Yonkers, New York. Their focus is building and managing "community-friendly" properties in urban areas. For more information, call 914-410-9090 or go to http://www.66main.com
Contact:
Marijane Funess
914-773-4225
mj@theonswitch.com
###