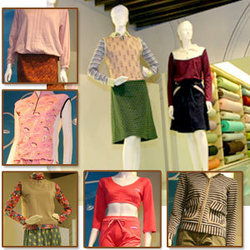 (PRWEB) March 27, 2008
For a bright start in 2008, Pai Lung, a knitting machine innovator, rebuilt its fabric showroom to keep its proactive attitude in delivering complete solution for customers.
With floor area of 250 square meters, Pai Lung showroom storages over 1000 samples of cloth, especially, Pai Lung patented knitted fabric are well-displayed. The aim of showroom not only presents versatility of Pai Lung knitting machines on wide range fabric production, but also indicates the new knitting fashion trend in market for customers.
"The main idea of showroom is not just identifying customer needs, but taking an active role in providing well-thought-out insights for what they need. Through our advanced knitting technology and integrated service, we believe our customers could easily success in market." Pai Lung General Manager Mr. James Wang said in confidence.
Pai Lung fabric showroom is categorized into five areas for textile applications related to daily life, Industry & Medicine, Vehicle & Safety, Bedding, Upholstery, Clothing and Fashion accessories, which precisely leads the potential market for customers.
Industry & Medicine
Pai Lung successfully assists customers to develop industrial filter materials and seamless fabric production by use of circular knitting machine series. The series also make good value spacer fabric for medicine mattress. With three levels design and raised pattern on surface, spacer has great breathbility and moisture absorbing character, which reduces the rate of "bed sores" for patients and decreases night sweat.
Vehicle & Safety
Comparing to weaving fabric, Pai Lung comes up with an advanced technology of woven-like knit fabric. This textile has the same elasticity and abrasion resistance as weaving fabric, but even better ventilation and softer texture for vehicle seat cover and interior decoration cloth.
Bedding & Upholstery
In support of its electronic jacquard knitting machines, Pai Lung introduces knitted fabrics to bedding with higher density and more stabilized construction. All single-side jacquard, multi-color jacquard, raised embroidery jacquard knit fabric present elegance and comfort for bedsheets, bedspread, curtain, sofa and wall covering. More "Intarsia" knitting with various patterns also can be done perfectly.
Moreover,Pai Lung terry knitting machines show the best for customers on blanket, robe, bath towel, foot mat, floor mat, plush toys manufacturing. These machines efficiently complete single-face, double-face and reverse side works, and make fabric finest texture. As wide applications of terry-cloth in daily life, Pai Lung makes customers more stands out in market.
Clothing & Fashion Accessories
Pai Lung's effort in fabric innovation has been seen in casual wear, intimate apparel, formal dress and sport outfit, which creates market demand and enhances customer's competitive edges.
With woven-like technology, Pai Lung knit denim fabric presents the same adequate stiffness character, nice handfeel and appearance as woven jean, it is specially designed with better air-permeability, extra strength. Pai Lung ensures this denim-like fabric offers a perfect fit and comfy feel for long-lasting wear. Another unique wove corduroy model has been well received in various types of garment production.
In order to maximize the comfort and function of sportswear, such as polo shirts racing outfits and swimming suit. Pai Lung applies the "Body Mapping" technology on knitted fabric. As comes from the same idea "Tech-Fit" as Nike and Adidas, the fabric has engineered mesh technical construction featuring variable mesh structures, which improves airflow across the body.
Pai Lung further recommend customers to expand the use of its single jersey knitting series and double face knitting machine in fine gauge fabric production. Knitted with silk-like yarn, the textile makes a good impression by its pearl luster, soft and smooth characters, it is suitable for evening gown, women's dress and man's shirt design. After more process to work with micro fiber and combine with waterproof and breathable film, customers can also manufacture lightweight outdoor jacket with excellent quality.
###