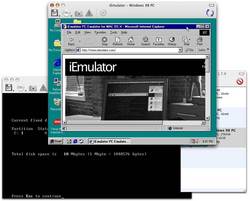 your support is second to none: friendly and amazingly quick!
New York, NY (PRWEB) March 7, 2008
iEmulator.com, a leading provider of emulation solutions for all PowerPC and Intel-based Macintosh computers running OS X 10.3 or later, has announced iEmulator Touch, offering a full touch-enabled PC emulator environment for iPhone and iPod Touch users running firmware version 2.0.
"The complete internal redevelopment of iEmulator is wrapping up very soon," said John Czlonka, General Manager of iEmulator.com. "We felt it was a perfect opportunity to also provide PC emulation functionality to the leading mobile computing and connectivity platform: the iPhone and iPod Touch."
"Apple's new iPhone and iPod Touch software development kit is allowing us to quickly port iEmulator to these innovative devices," he went on to say. "It's an amazing development and operating environment."
"Imagine being able to run most popular PC software anywhere, with full Internet connectivity, without having to lug a notebook PC around," said John. "It's a fundamental shift in how people will use mobile devices, and makes thousands of new applications available for the platform."
There will be some limitations with iEmulator for OS X Touch: no physical CD or DVD access will be initially available, but iEmulator.com is already developing work-arounds for this hardware limitation. "The iPhone and iPod Touch have phenomenal connectivity options. Downloading and using PC software and data on the devices from the Internet or a host Mac or PC will not prove problematic."
"We'll be offering a couple of different iEmulator Touch packages," said Richard Peters, director of Technical and Customer Services. "One of these will be a complete, stand-alone Windows compatible environment which will enable iEmulator Touch customers to use popular Windows software 'right out of the box'. We want to ensure that using iEmulator Touch is as easy as possible."
iEmulator Touch will be available in the second quarter of 2008, shortly after iEmulator 1.8.0 for Mac OS X is released. Pricing has not yet been set, but iEmulator.com has always strived to provide powerful, usable, well-documented and well-supported emulation solutions at the lowest possible price, and iEmulator Touch will not be an exception to this rule.
"All iEmulator customers have always benefitted from having no-charge access to iEmulator updates," said Richard. "If you purchased any version of iEmulator in the past, iEmulator 1.8.0 for Mac OS X will be available to you at no charge. When you purchase iEmulator Touch, all future versions of iEmulator Touch will be available to you for free. We're also trying to work out a way to provide iEmulator Touch at a reduced cost for current iEmulator for Mac OS X customers. We're going to have to see what options Apple gives us with the iTunes Store."
iEmulator.com continues to set the benchmark for customer support and service. From simple thank-you's for a quick tip to comments like "iEmulator is fantastically easy to use. I was so glad to find such an affordable, user friendly program.", "your support is second to none: friendly and amazingly quick!", "(iEmulator.com has) been very responsive and helpful" and "I am dubbing iEmulator -- the BEST way to run Windows." iEmulator.com is proving that it has consistently set customer satisfaction as the number one goal above all else.
iEmulator is a high-performance PC emulator for the Mac OS X platform that has been available since November of 2004.
For more information on iEmulator for Mac OS X or iEmulator Touch, please visit http://www.iemulator.com or contact iEmulator.com at info@iemulator.com
# # #