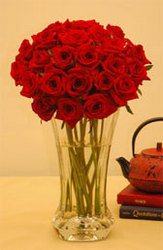 flower delivery is all about keeping relationships alive.
(PRWEB) March 8, 2008
Thousands of Filipinos received something very special last Valentine's Day. For this season, Island Rose -- Flowers Philippines delivered more than 12,500 dozen roses throughout the country.
This was no simple feat. It took a total of 28 people to harvest the flowers, 26 office staff to receive process these orders, and 64 floral experts to arrange and ensure quality control for thousands of rose bouquets. In addition to this, it took the combined efforts of three of the Philippines' largest courier services to deliver all of these roses within the Valentine's season. Several hundred trucks and almost a hundred flights where used to deliver flowers in almost every corner of the Philippine islands during valentine's season. "We will do everything possible to make people happy this Valentine's Day," says Dustin Andaya, founder of islandrose.net.
Indeed, the responsibility of Valentine's day is a huge one. Thousands of people rely on Island Rose to give meaning on this special occasion. According to Island Rose, "flower delivery is all about keeping relationships alive." As the prime mover of Philippine flower delivery, Island Rose makes it a point to invest in the best people and technology to make sure that they deliver the messages entrusted to them by thousands of people all over the world.
Experience counts a lot when faced with this kind of challenge. Island Rose recognized early on that preparation is the key to successfully delivering flowers in the Philippines. With almost 25 years of experience, they have a unique ability to foresee almost every possible area of difficulty. A few years ago, they where caught unprepared for the huge influx of orders from the Internet. Some orders where delayed because there was not enough cargo space in the flights to the provinces and there were not enough trucks to deliver in Manila. From this time on, preparation for special occasions has been an obsession. As early as December, activities are focused in preparing for Valentine's Season.
The efforts have paid of tremendously not only for Island Rose but also for the entire Philippine flower industry. As Island Rose continues to formulate newer and better ways to deliver flowers, floral suppliers and courier services are pushed to improve their services. In most cases, these standards are also used by other flower delivery services in the Philippines.
A good example is its pioneering use of professional courier services for delivering goods nationwide. As the volume of Island Rose orders grew, it put pressure to the top courier services to constantly improve their services for e-commerce. This opened the door for other e-commerce firms to use the same system for delivering flowers and other gift items throughout the Philippines. In turn, this gave Filipinos in remote provinces the opportunity to enjoy products and services once exclusive only to Manila and major cities.
The record sales figures of Island Rose are indeed impressive but the true accomplishment lies in the fact that it forever changed the standards for efficient e-commerce through its flower and gift delivery services.
Island Rose -- Flowers Philippines is a multi awarded company that specializes in growing French and Dutch variety flowers in tropical conditions. In the year 2000, Island Rose revolutionized the Asian farming industry by offering its flowers over the Internet. Through islandrose.net, clients can order Philippine flowers straight from the farm allowing them to enjoy the freshest roses at the fairest prices.
# # #